#VivaManila – the hashtag used by Mr. Carlos Celdran, aims to restore the glory of Manila. The tour was brought to us by the City of Manila. The tour was free thus a bunch of folks from all over the metro and nearby cities, and also some foreigners joined. We all love something free especially when it comes from Mr. Carlos Celdran – the most famous and controversial tour guide, cultural activist and lover of the Philippines. The objective was to show to us that Manila is a walk-able city where in most of the attraction in this mega city are just between 200-300 meters radius.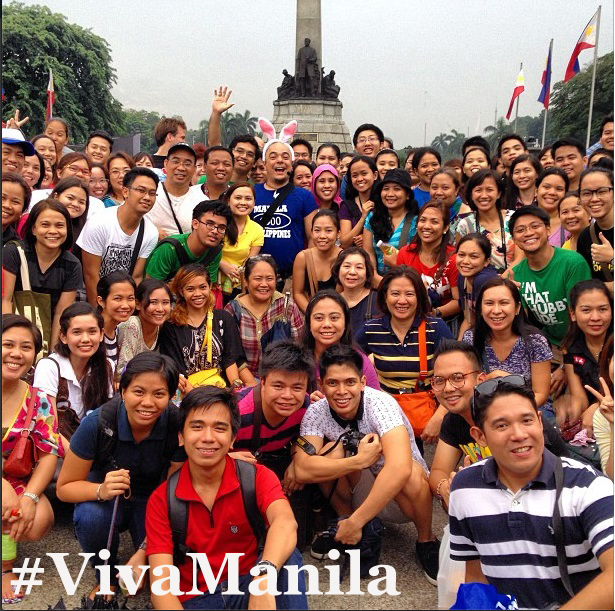 Find me 😉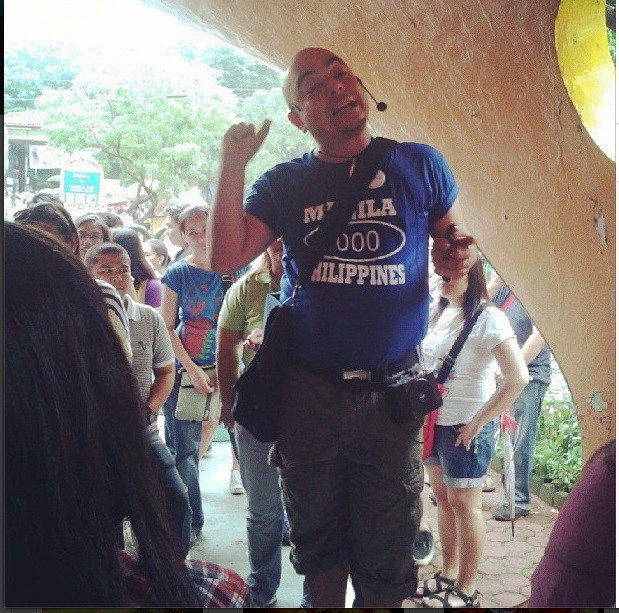 Our plan that day was to stroll around Binondo and Intramuros to chat and to have some photowalk in these historic places. But everything changed when one RJ sent me a message (or link) saying that Carlos Celdran will have a free tour of Manila on the time of our meet up. So why not join him in this rare opportunity?
We arrived at the MMDA Park 30 minutes late. We were suppose to be there at 3PM. Good thing the group was still there and the briefing has just started. Carlos Celdran didn't seem overwhelmed by the number of people showed up. I was kinda shocked though I expected it to be that much because it was for free. Carlos Celdran managed to conduct a very nice tour with 163 tourist. Wow… And guess what we somewhat caused – Traffic… hehe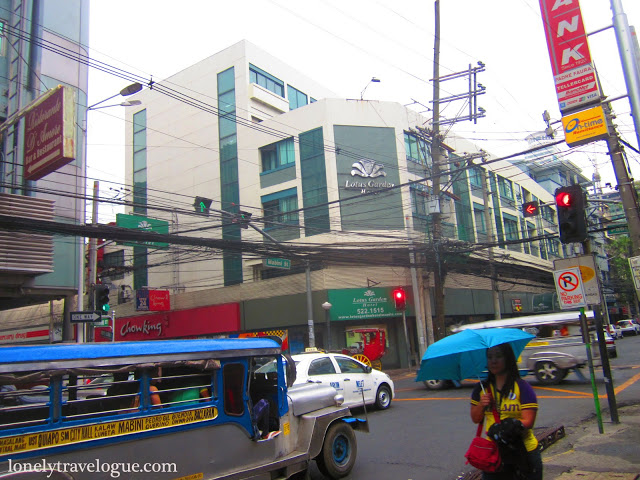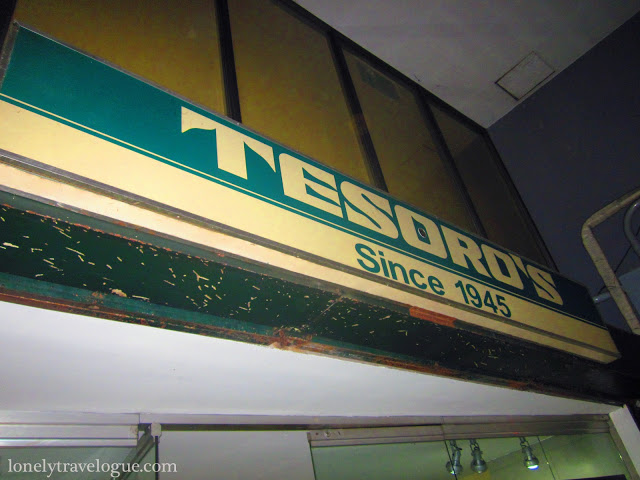 We started, as I say in the MMDA Park. Carlos Celdran with his bubbly narrative told us the story behind the MMDA or the Metro Manila Development Authority.
It was quite interesting to know that Imelda Marcos was the first head or chairman/woman (or the Queen) of MMDA. His late husband, of course, Pres. Ferdinand E. Marcos created the agency to oversee the cities now under the National Capital Region or Manila. And this was the wish of the Queen and Mr. Marcos appointed her. That's how they do it (politics)before, of course. So you expect MMDA to have a lot of powers that time. Imelda the queen did all she wanted to happen. And it all happened. The result was a good. She build parks, cultural centers, transportation infrastructure among others. But everything changed when the Marcoses collapse. In the Philippines – New Government = New System, New Rules. The MMDA lose its bite with the local officials of the cities under MMDA.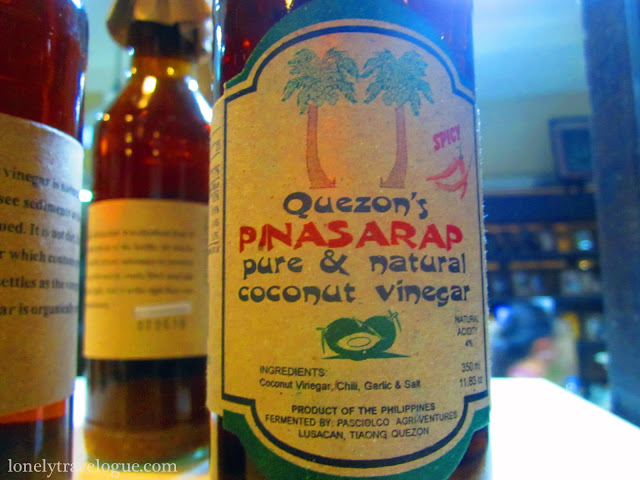 Then we were asked to take a jeep and go to Padre Faura. So the 163 folks will transfer from Malate to Ermita… so expect a chaos and a feast, haha… Chaos for the tourist and feast for the jeep drivers. At least we were able to help them.
Ermita came from the spanish word LA HERMITA meaning hermitage. Wow, from being a place for the religious secluded from the world to red-light district!
Red-Light District – common term usually associated when we heard the word Ermita. Well not to mention the robbers, pick pockets, scammers and the like. Little did we know that Ermita is the place for Art! From traditional, ancient to modern contemporary, art galleries are scattered in Ermita!
One art gallery that we visited was the 1335 Mabini. It has collections of artistic piece from vintage, contemporary and even indigenous. In this gallery I learned that art is very subjective and complicated. There were raw plywood put up together and they are selling it for thousands of pesos. There is this chunk of wood which has a stand priced at Php55,000 – I like that one.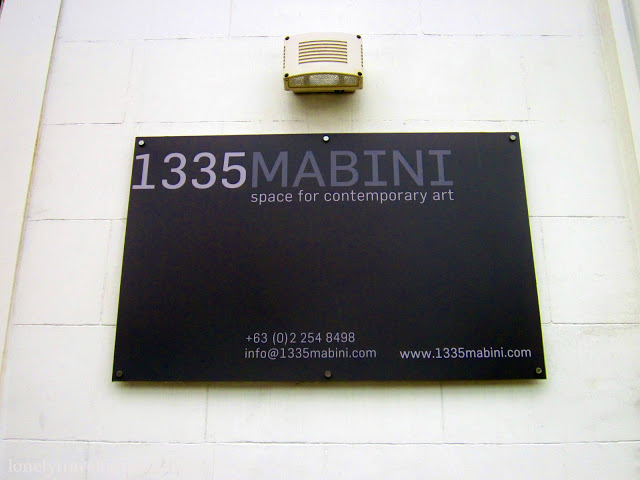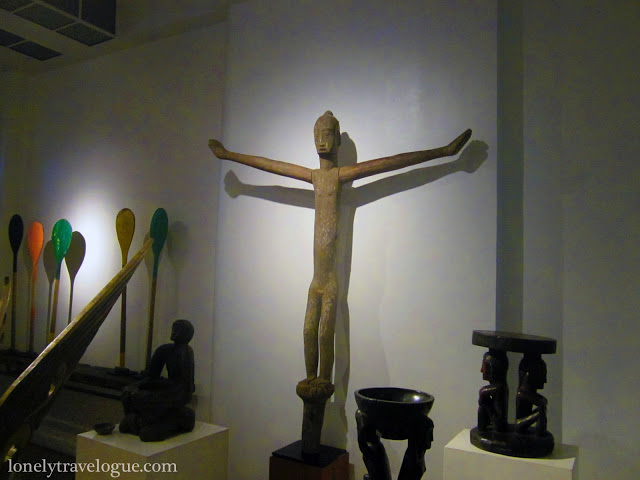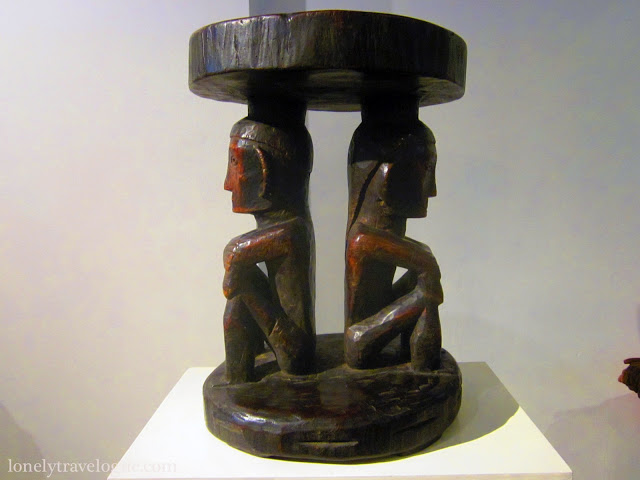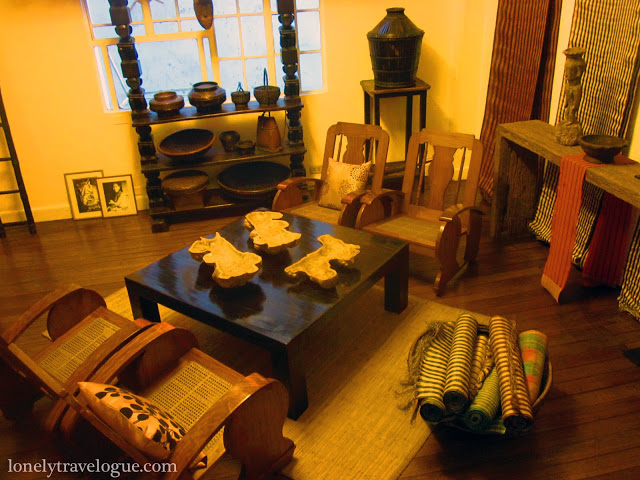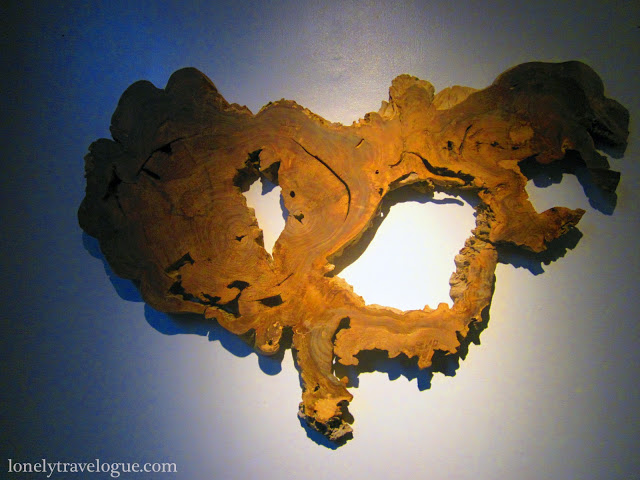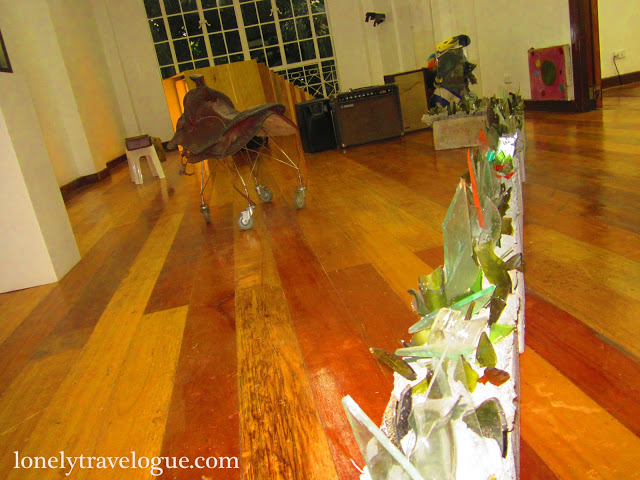 What drive us all crazy (at least with our little group) was an art piece (picture above) similar to house fence where broken glass was cemented to prevent thieves in your house. We were puzzled what does it mean! For most of us its just a bare hollow blocks with broken glasses. hmm… I wondered how much it cost. So I asked the pretty lady in the gallery what is the name of that piece. She doesn't know, so she asked her boss. When she came back, she reveals that the piece has no name… Curiously, I asked her how does she perceive that piece… she intelligently, without second thought answered me saying, the piece reminds us to be careful in every steps that we make. She then added that its just a part of a bigger piece that forms a labyrinth. The labyrinth is displayed in one art gallery in Makati, I just forgot the name. The piece according to her is not for sale. It was there in the gallery as a tribute to the artist who created it who recently passed away. I was stopped to make a joke about this piece… that maybe the artist slid on his piece thats why he died. Yeah its very insensitive to make a joke like that… hehe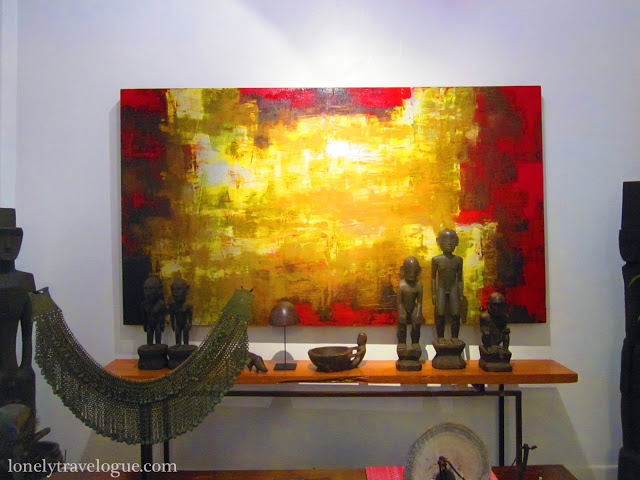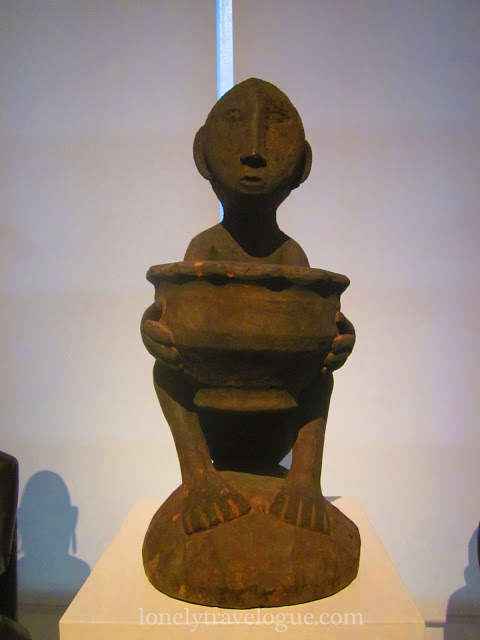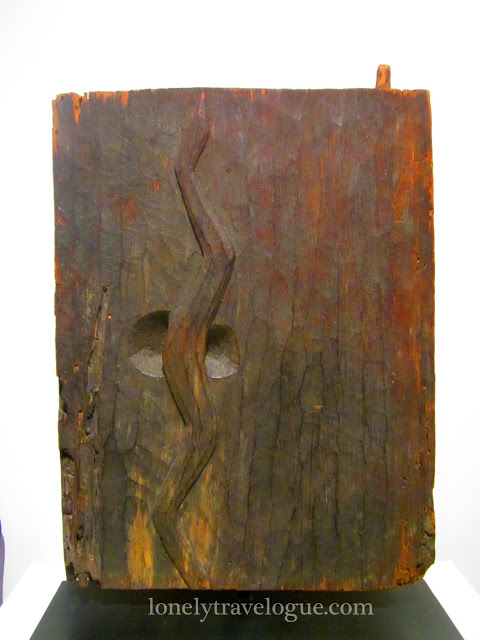 A piece of wood priced at Php55,000.00
We had our miryenda or snack at JadeVine Restaurant and Executive Inn courtesy again of the city hall 😉 We had time to rest and chat in the ballroom area of this hotel. We were served with an ice tea, tacos and sandwich. Happy tummy, thanks to the Manila City Hall.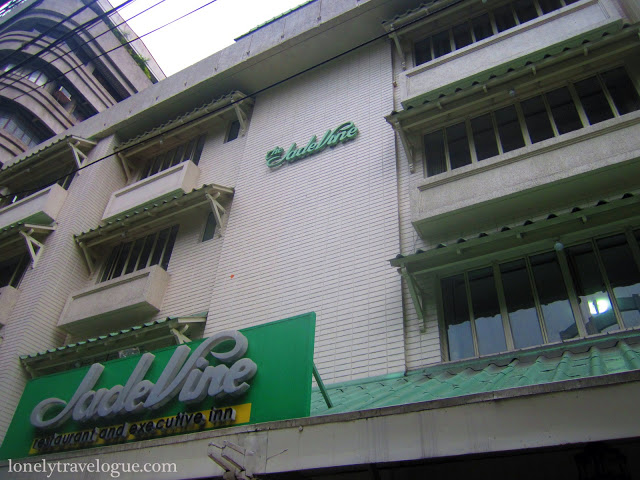 Jadevine founded by Esperanza Alvendia opened in the 1960′ after she retired from UST. Jadevine host a number of Broadway impersonations shows such as The King and I," "Sound of Music," "West Side Story," and a lot more.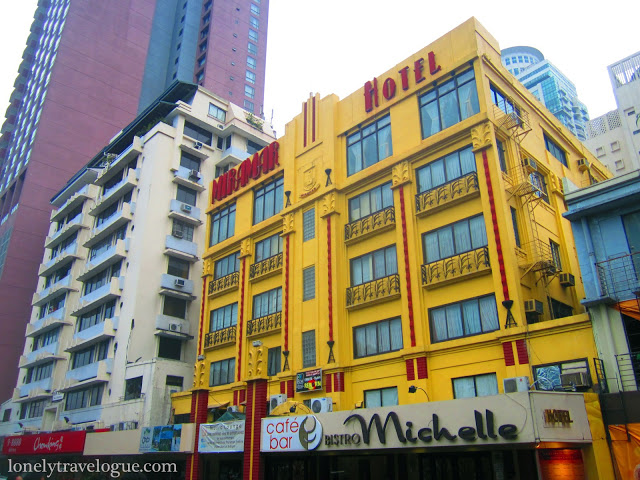 Our last stop was the Miramar Hotel along Roxas Boulevard. The hotel is a 50's(?) style architecture. They opened the rooms for us to see how good are those or maybe stay there. The beautifully painted facade of the hotel is what makes it unique and an excellent place to stay.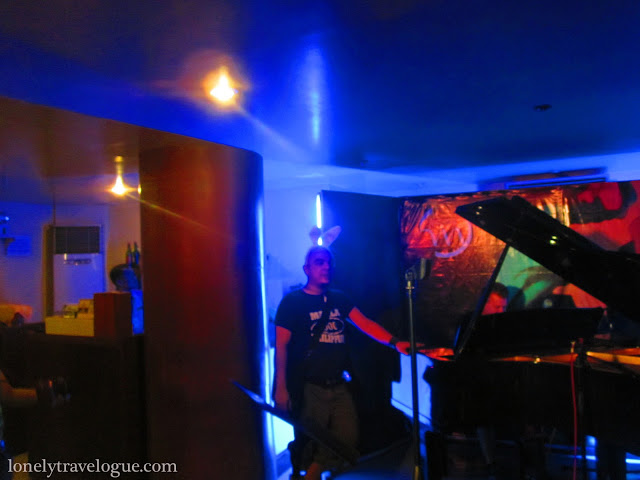 When we were about to move to proceed to our last stop Carlos Celdran heard that there was somebody playing the grand piano. He approached the foreigner playing it and jammed with him. He even ask to play a certain piece then somebody from the tour asked him to sing… and he, without second though sang the song. Hahaha… I don't know the song that he sang. The second song (yes he sang twice) was a Michale Buble rendition song. This man is so spontaneous. He will do whatever he likes to do and say whatever he likes to say.
One funny thing (well not actually funny) was the foreigner who was playing the piano was just a tourist. He's here because he just recently married a Filipina who was also there. Maybe that guy was playing something for his wife until we, or Carlos Cendran, disturb their romantic moment. haha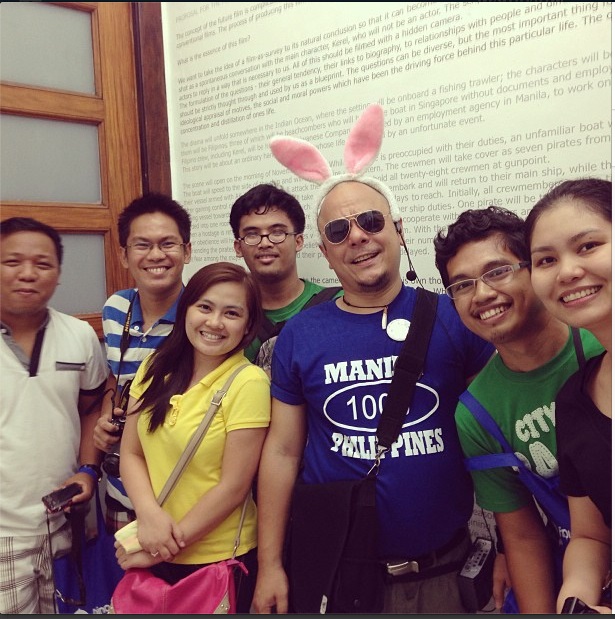 (L-R) Jaime, RJ, Gelai, Mina, Carlos, Me and Mai
The tour was worth going. I met some tour guide as bubbly as Carlos Cendran, but his comments and side notes and overall way of telling stories is what makes him different from other tour guide. #VivaManila is just a start in restoring Manila. There are lot of things to be done. I will be a part on every endeavor to restore Manila – the cultural capital of the Philippines.
Want more TravelUpdates? Like my Facebook Page (LonelyTravelogue) or follow me on Twitter (mytravelinglife). You can also follow me on Instagram >>> MYTRAVELINGLIFE