If tides were my spirit the world will seem to experience the worst global warming effect. I was in full gear towards the day to come. Everything was set to battle again the row of waves ready to strike against us. But oh were ready, the iron was sharpen and we were determined to brave the sea. My spirit was like the ocean facing Philippines worse dilemma of the 21st century, it was high as the waves cascading onto our small boat. This was brought about my perfect moment with nature and its inhabitants the previous day. Though it was also quite like a battle, the ending was obvious – I am a victor. The following night I met new friends a Filipino and three Chinese ladies. We all enjoyed Tour A as anyone should. We had dinner at the Alternatives and extended the night with a warm-soothing-hard massage for a little over Php300 including the tip to the talkative masseur.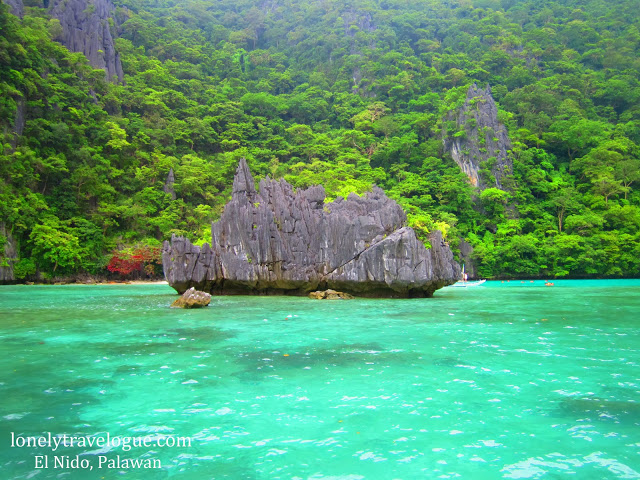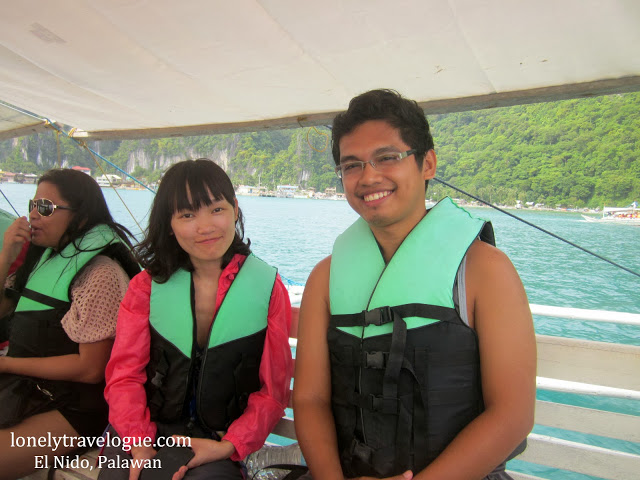 My Filipino friend treated me with a tip for a discount. He was able to haggle the tour fee for both Tour A and C by a hundred pesos. So he tagged me with this very Filipino trait of availing. I paid Php800 for Tour C in which I am supposed to pay Php900 on a regular basis. But I had to pay another Php100 for the snorkel rental. So yes, it's as if the tour agency let me borrowed their snorkel for free. As of writing the fee increased to Php1,400.00. yes no joke…


We all gathered in the same spot/restaurant we had the previous tour but this time the waiting was a bit long. Unlike my previous waiting, I didn't have to deal with the loneliness of my mind as I have friends to talk and share life stories. Then an additional friend came into the picture, another two foreigner couple plus another and there we are a bunch of friends finding comfort on each other and escaping the business of our urban life.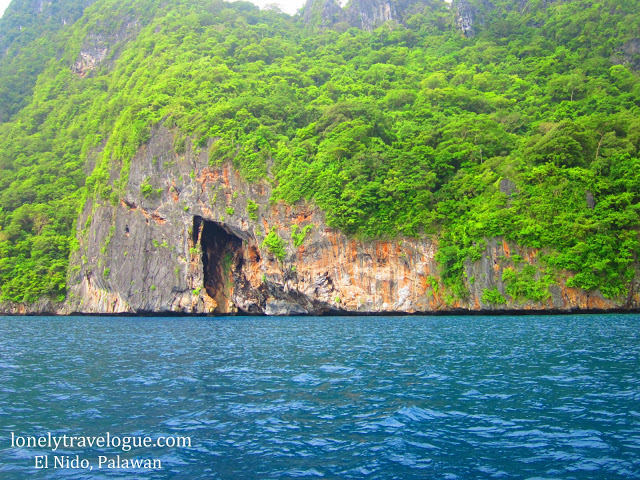 The small boat roared its engine signaling that we were about to sail. But everything must be properly fix before we finally move. Then I noticed that the life vest we had was of low quality as compared to the one we used the previous day. Good thing it has all the necessary strap to lock.
Hidden Beach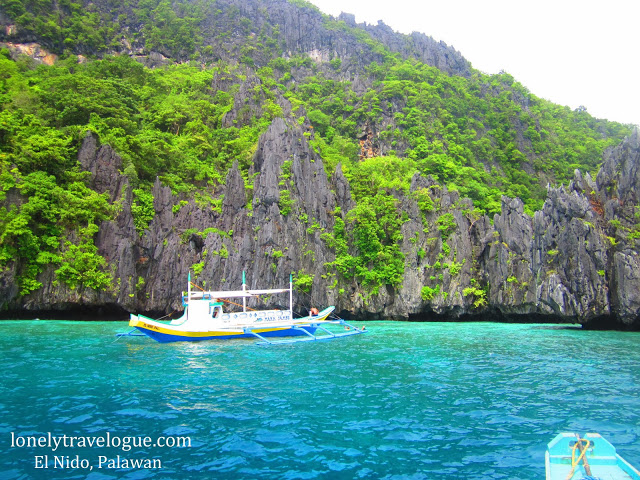 The sea was still rough but not even the big one can stop us from proceeding. We dealt with the waves for 60 minutes and that seems nothing even though we felt its strong presence. That doesn't seem to bother us because the company was much like to have a show of places they set foot on. Oh well, they've been to a lot of places in the Philippines and in other countries. Me, I was just like the Lonely Blogger sitting on the far end bench listening to their stories of triumph and success over life.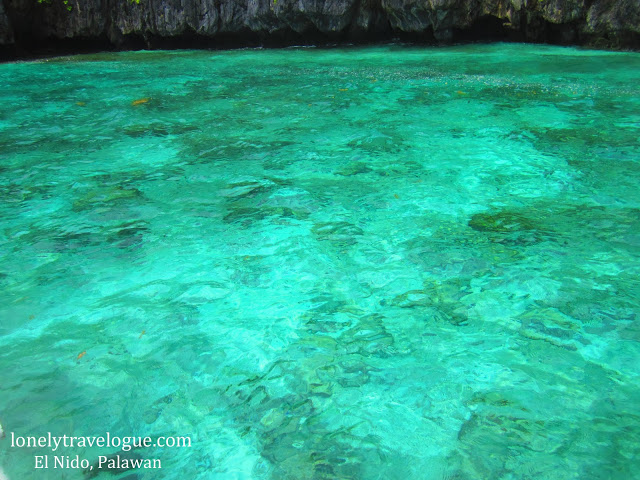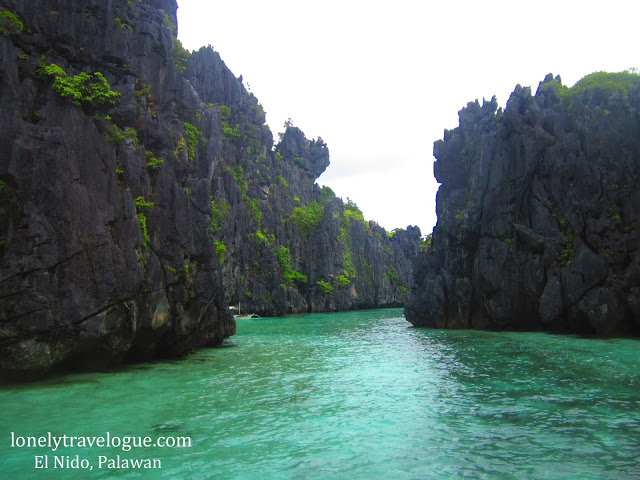 The Hidden beach is no longer hidden, or its still knowing that most of us can't navigate the seas with our own private boat. It is hidden, literally, to the open sea of the Philippine territory. There are long-gigantic pointed stone walls that make this beach hidden from the uproar of the waves of the open sea.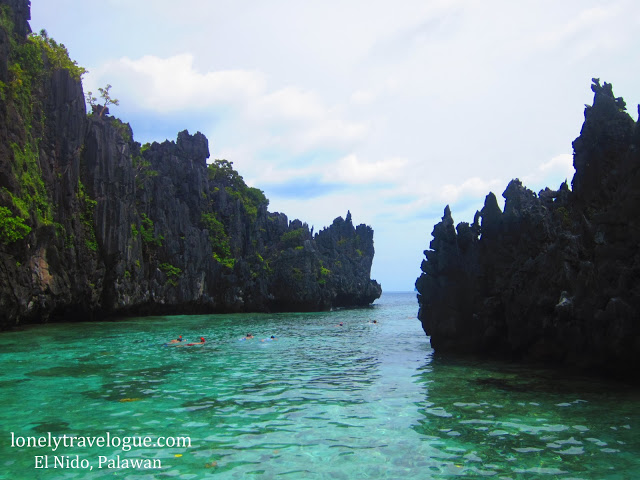 I was kind of disappointed when I saw the beach itself like a parking lot of colorful boats of tourist. Why they won't allow me to take a good picture of the beach??? I hear the devils laugh on my back. I diverted my point and shoot camera to the ladies in summer colored two-piece clothes trying to make their signature post at the far front of the boat. Everybody was doing it even us guys. Everybody has to line up to secure a 5-30 seconds in the podium.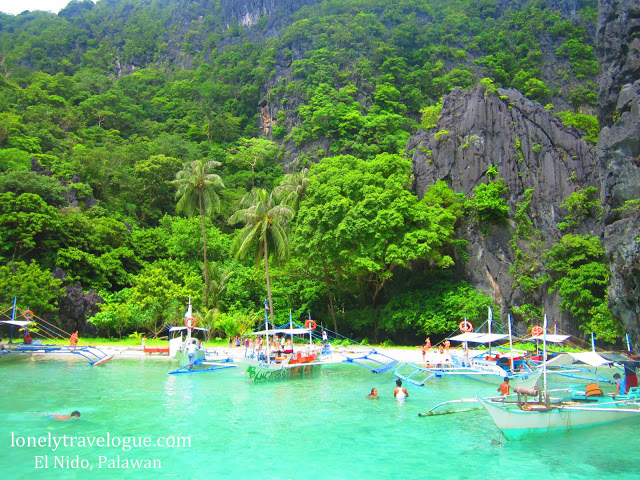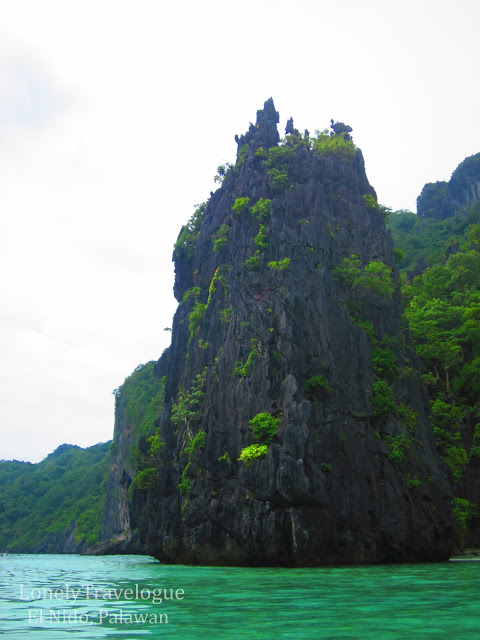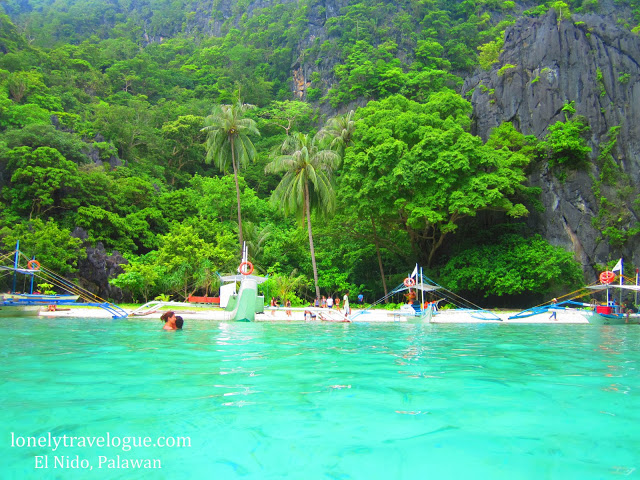 We all jumped and did our thing. On my own Lonely moment I discovered a cave channeling the secret beach and the open sea. I did try to cross it first and see if its worth calling them to see my new discovery. I discovered that the little cave connects the Hidden beach to the entrance where the boats curve to the hidden beach. They were ecstatic when I called and escorted them into my discovery. We were all thrilled by the wave that seems to push us away from the cave. Instead of backing off we just laugh and take pictures in the opening. Then there our guide came to us assisting us to cross the small cave. He was there because he wants us to move fast because we need to go to our next destination for our lunch.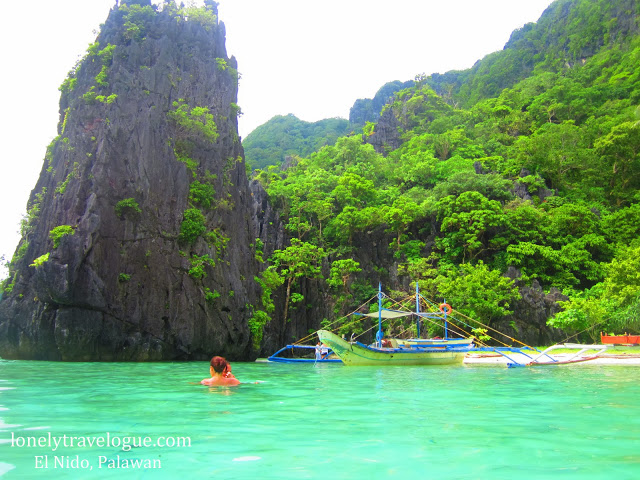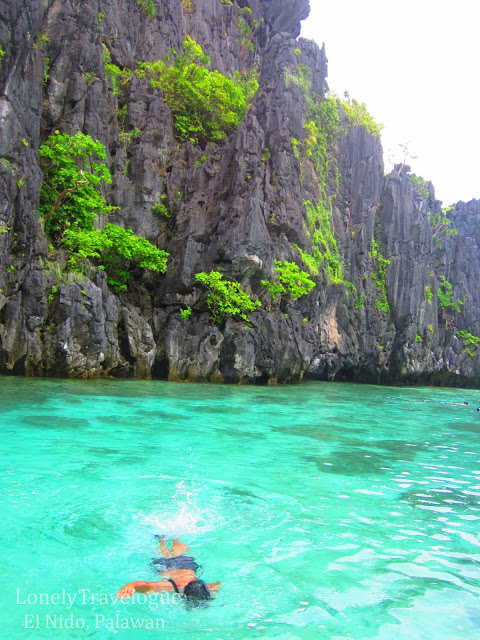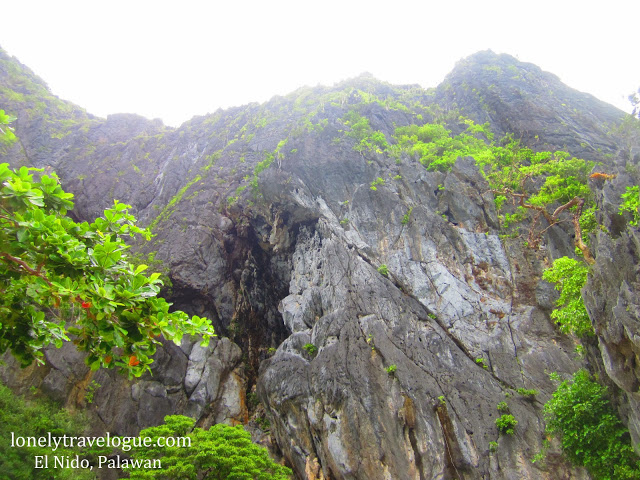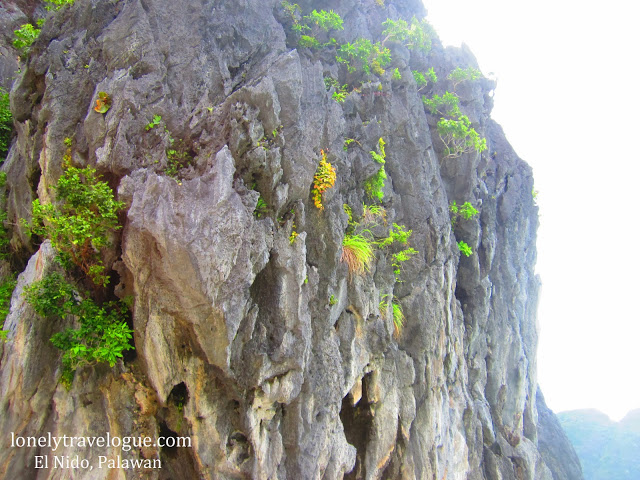 Tapiutan Island/Talisay Beach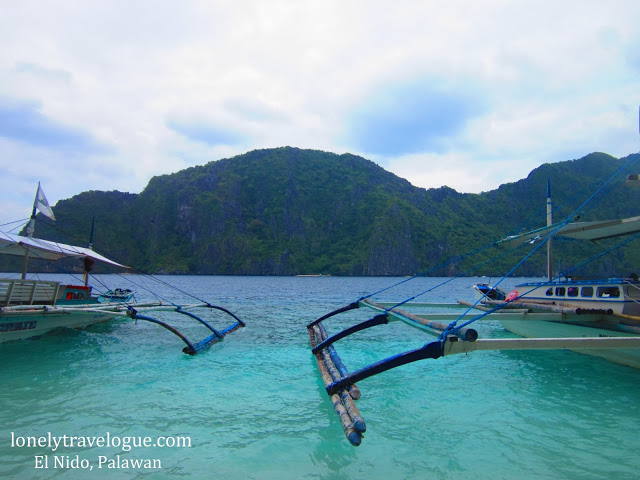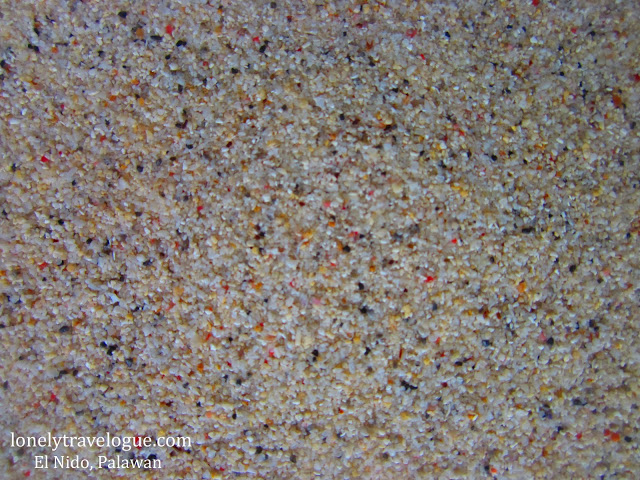 Big lime stone-like islands that seems augmented by the strong current or tectonic movement astounded us as we approached our destination. Tapiutan Island is one of the farthest Islands in the Bacuit Archipelago of El Nido. It faces the open sea thus making it hard for smaller boat to reach. There as we prepare ourselves for beach bumming while our resourceful boat men prepare a feast for us. In this island we got to know each other well by exchanging out backgrounds. Well, I just toured with one of the famous author of Precious Heart Romance book!!! I also got to talk to the two friendly French couple and two not so friendly Spanish couple. Although the Spanish woman's tongue was almost tied, I cannot let my eyes out of her. She's like the goddess of the sea taking care of us on board. Or maybe I was like watching a telenovela when with her partner frequently shows affection ALL THE TIME!!!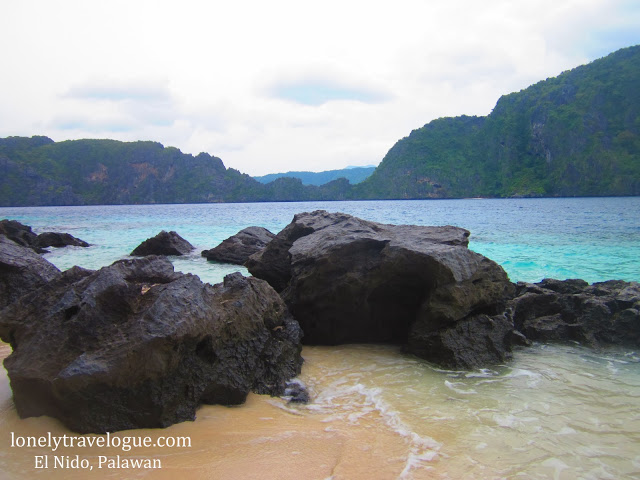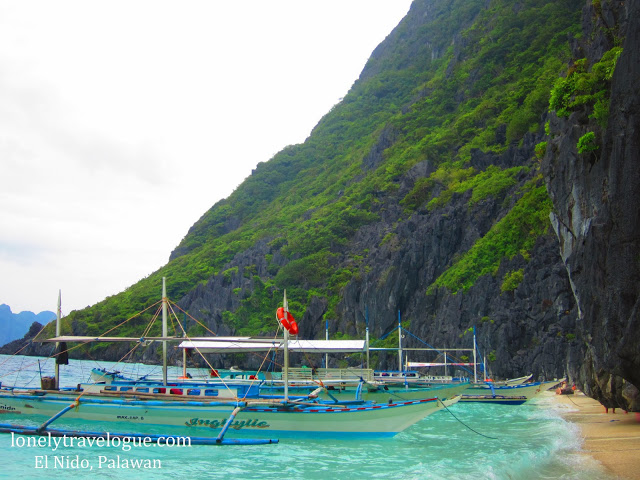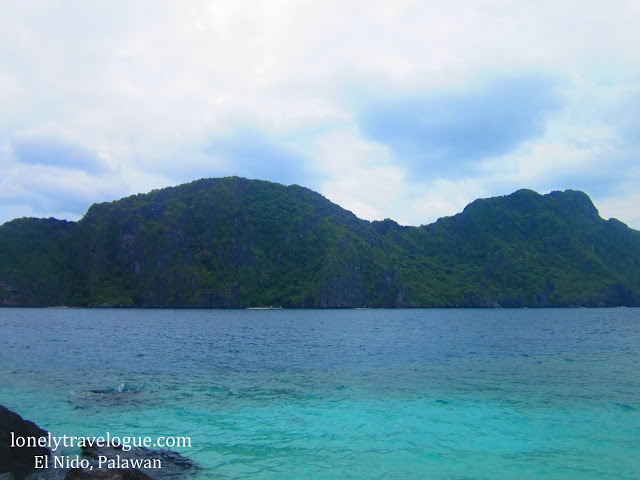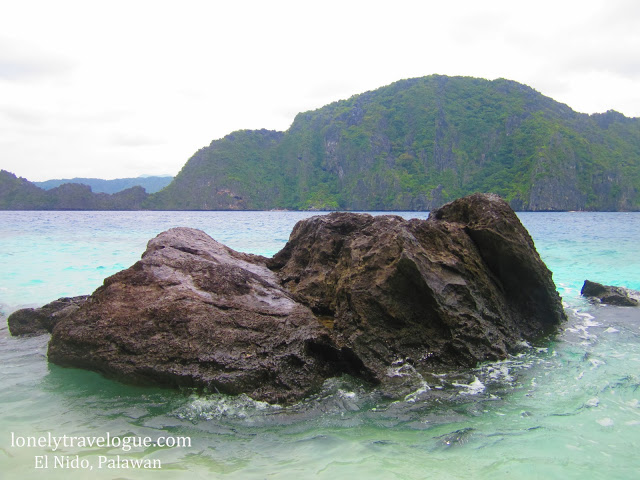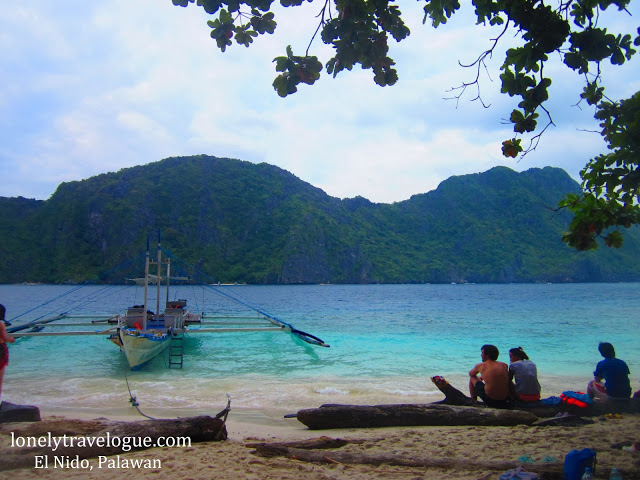 Everything in the beach is so delicioso. Why is that? Even the least food I will take during normal circumstances taste like a 5 star restaurant dish. Lunch is the special time of the tour. Without good food everything is nothing.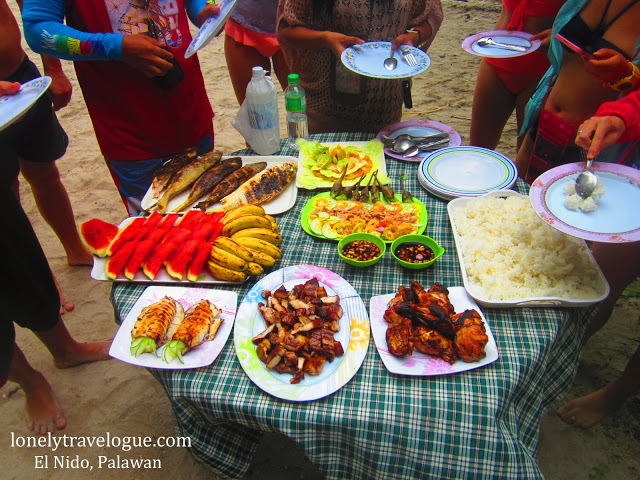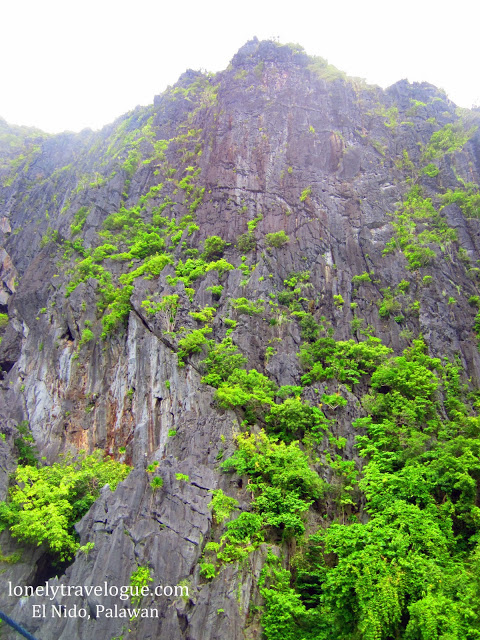 We were suppose to go to the Secret Beach but the tide was to high so it was impossible to go.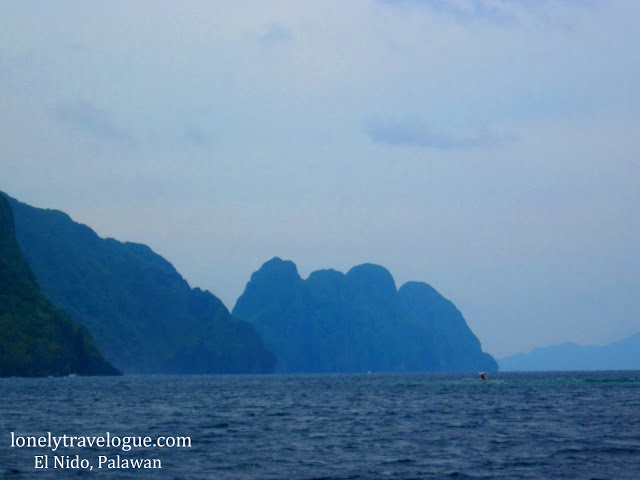 Matinloc Shrine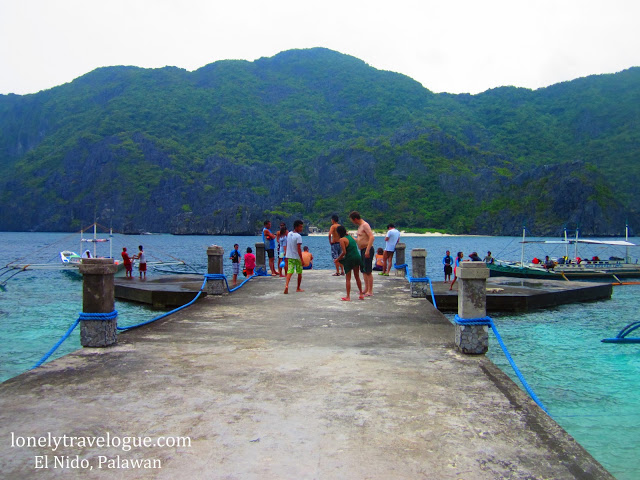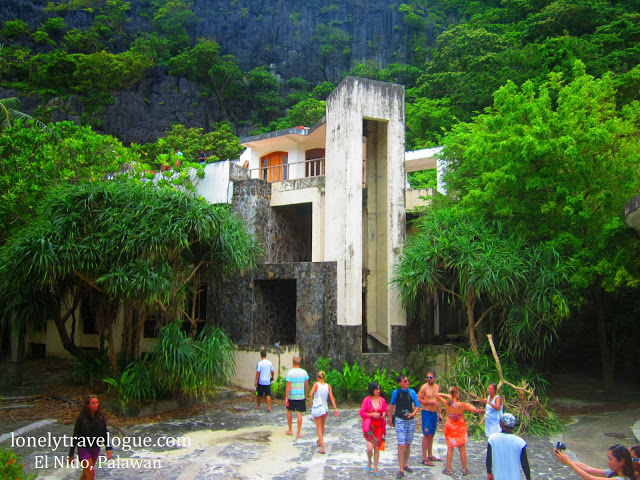 Matinloc Shrine is built to train young men to serve the church. Located hours away from the mainland, a structure like this which is big and nice is very unlikely. However, faith seems the most powerful thing in this world that even the impossible is made possible.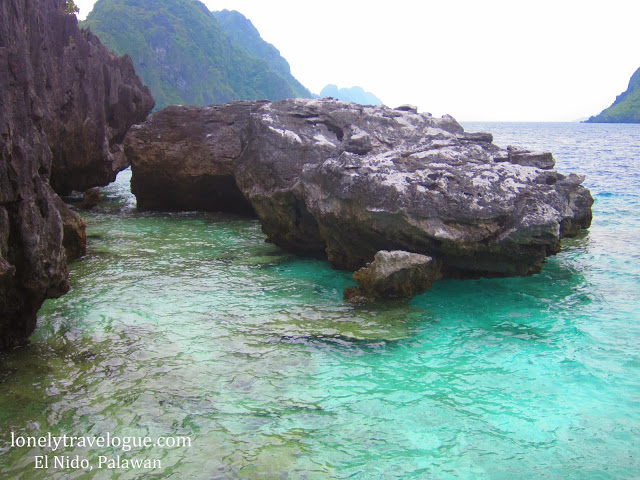 The shrine is an abandon building like a ghost house. They closed it because of unwanted circumstances in the Catholic faith. It was deemed operational until nobody wants to pursue the vocation. Until the priest or caretaker got sick and it was very hard to bring him to the mainland for Medication. I am not just so sure if he died or not. However that point made this Shine to close.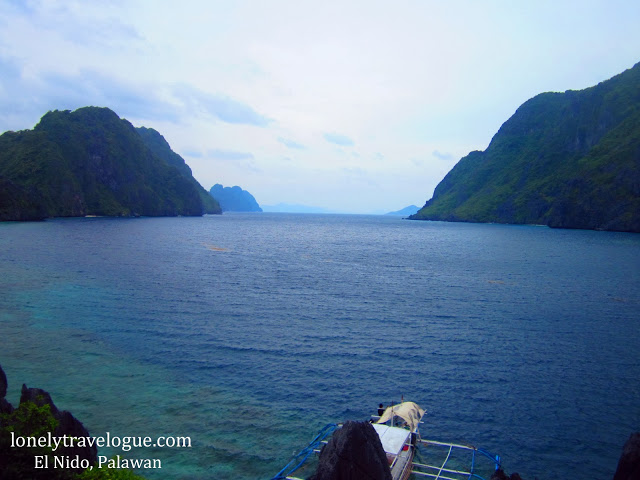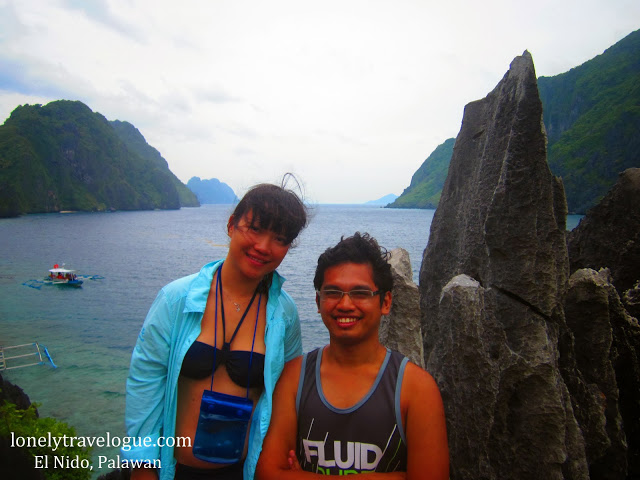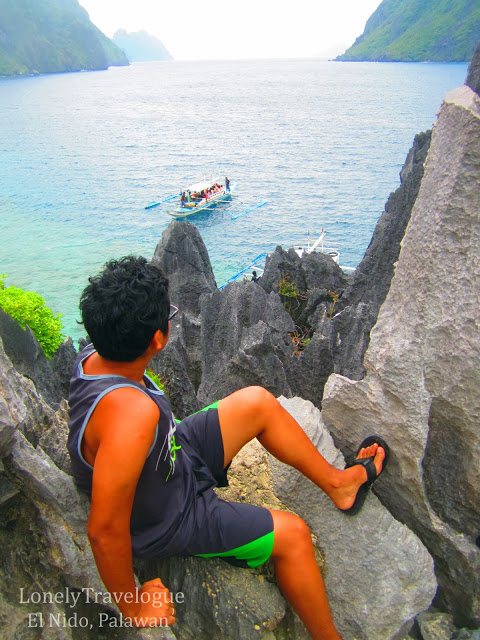 Today it is one of the most visited sites because it offers a breath taking view of the sea from above. You just have to brave yourself while climbing cliff of pointed rocks to see that breath taking view. You just have to be careful in doing so because one wrong step might lead you to be buried in El Nido specifically Matinloc Shrine. Hehehe…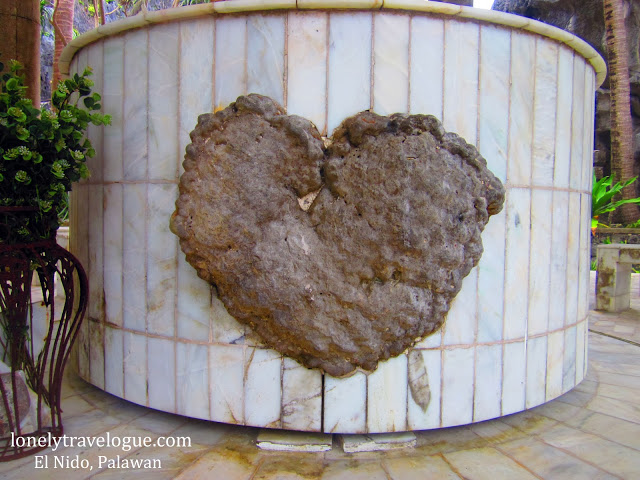 That heart shaped stone located at the gazebo was not created by human creativity. That was found by the priest residing in this shrine in the waters of El Nido.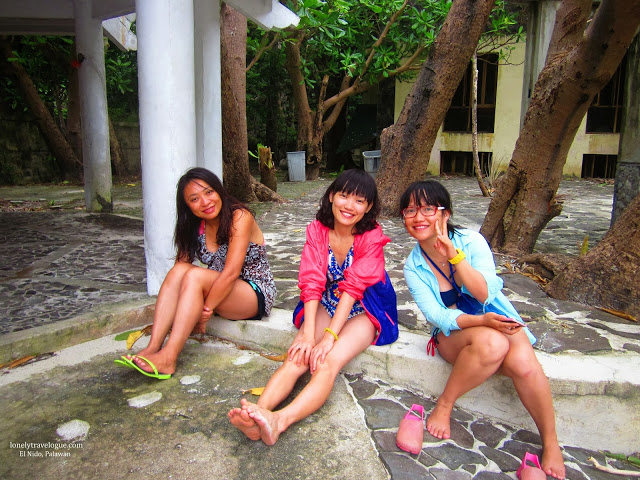 Chinese citizen enjoying El Nido
Cadlao Lagoon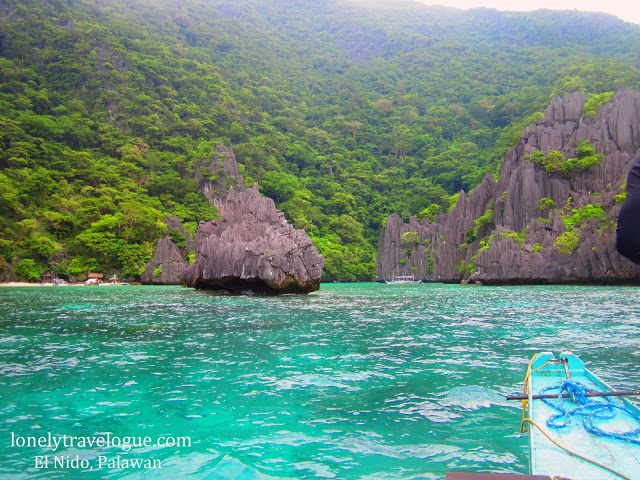 Bathe in the cold water of Cadlao Lagoon. Sometimes its hot depending on the spot where you are. It is so deep that you could jump from the cliff and enjoy the thrill of the rush of your blood. Only of you could climb that cliff. I did jump a few time in the boat. And with life vest. I realize that I don't know how to swim. I envy those western tourist. Whenever the boat stop they immediately jump without a life vest. While us Asians will demand for a life vest and asked the nurtured boat man to save us when we drowned. I am the most guilty.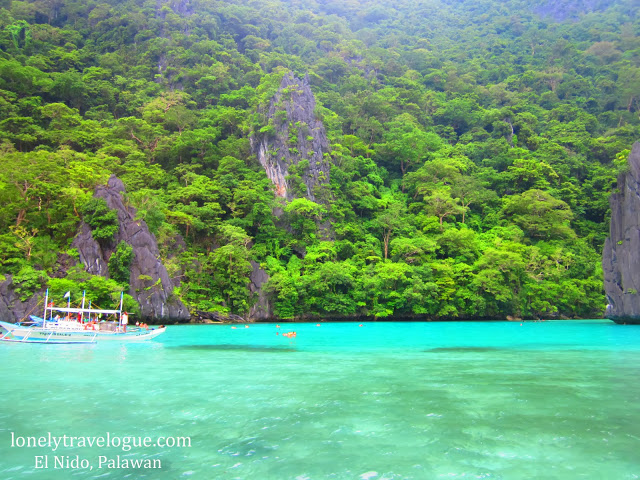 Cadlao Lagoon is also best for kayaking. The still water makes it the perfect place not just for swimming and kayaking but oh… also for learning how to swim! Unfortunately, the boatmen looks tired and I do not want to stress them. We did manage to enjoy the water with the help of the life vest. Those bushes where the monkeys lives and creates a more jungle like scene. However we didn't reach that far because we were so tired and we were about to sail for our last destination.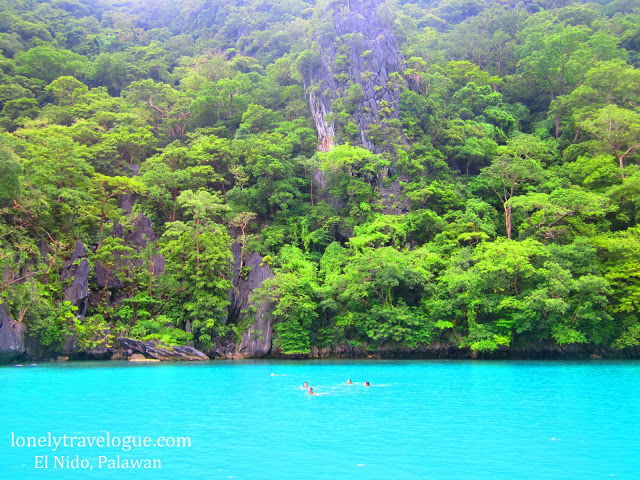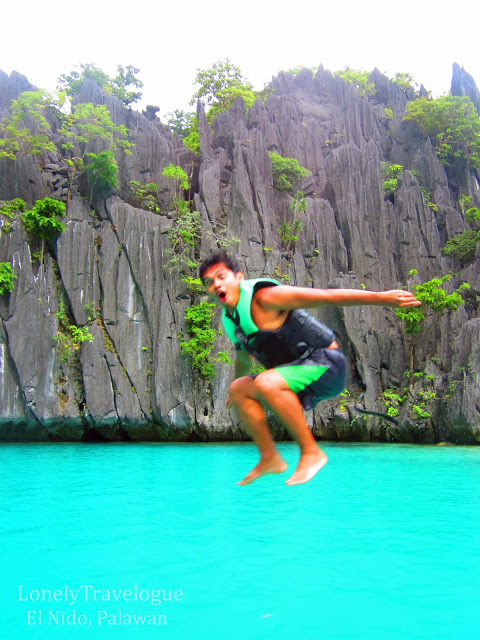 This has become my favorite profile picture after my Northern Palawan Adventure
Helicopter Island
I felt the strands of my muscles in a not so good condition. I was tired so was others. We were heading to our last destination – the Helicopter Island when we aligned the portion of the sea where the strong currents from the West Philippine Sea was making its way to the shores of El Nido. Some were frightened by the sudden shutdown of the engine brought about by the high waves while some joked about death. We all searched for our life vest to preserve our life for our love once and un-reached dreams.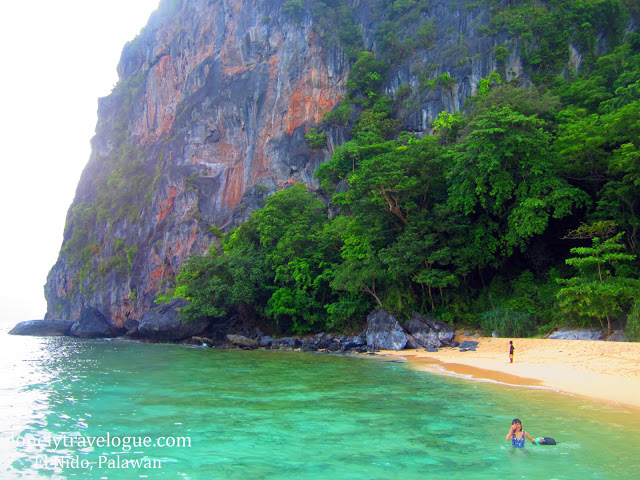 I was looking for the reason worth enough for this island to be called Helicopter Island. As you guess it is called Helicopter Island because its shape is like of that vehicle. Whatever. It should have called Dumulacad Island – the local name of the island.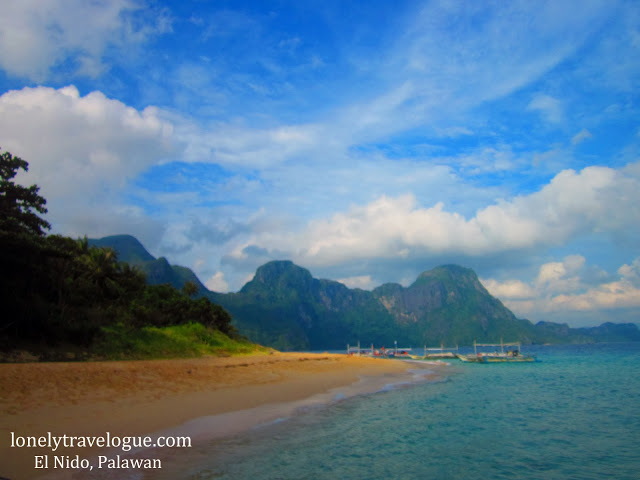 I thought gonna do some beach bumming in Helicopter Island like we did on our last stop in tour A. the boat man asked us to bring our life vest and snorkeling gear to witness the life under the sea. It was the perfect moment to end tour C of El Nido Island Hopping. We snorkel for about an hour. I noticed that the corrals were bleached and seems a lot of them are damaged. When I asked the coast guard if there were some illegal fishing activities. He said that the bleaching of the corrals is due to global warming. These Creations are vulnerable to climate change. A little drop or rise in the water temperature would cause a big damage to them.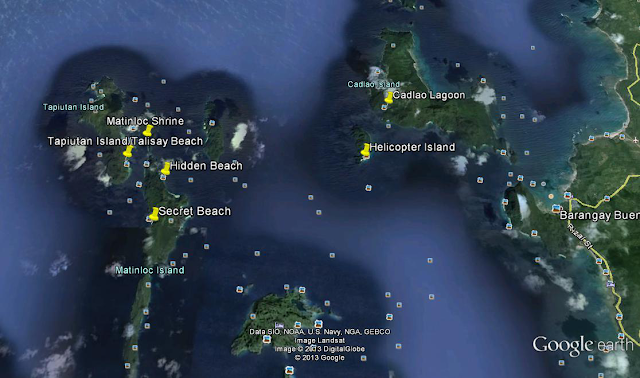 We really have to take care of our environment in a coordinated way. Nobody can solve the issue of climate change except for the collective effort of every single person living in this place called Earth – our hope. Its just no longer about the future generation seeing the astounding creation of God, its already our survival in our home. We will be witness to the great impact of climate change sooner or later. I am a witness to that, not just in El Nido but as well as in Calaguas and other coastal town. It will have a tremendous impact on how we live our lives. It will actually change how we live.    I do not want to be preachy on this part but what I saw in helicopter Island bothered me. We all need to be an advocate of environment because we share one place and that is this place called Earth. I was in high spirit in the beginning and that translate to a challenge to do something that will create a big impact for our environment.     
This is part of my Northern Palawan Series 
If this helps you or inspired you please share this in any Social Media platform or comment here if you wish to ask for more =)
This is the travel blog of Jherson Jaya – banker by profession, adventurer by passion. Everything written here were based on his experiences. The lust of seeing new places thrilled him to explore both the explored and unexplored world. Old and new architecture fanatic; lover of food, both exotic and indulgence; and founds peace in long bus and train rides – thats how he describe his way of traveling. Follow his adventure by liking his Facebook Page LonelyTravelogue and following him on Twitter and Instagram.