This is the generation of young professionals with an itchy feet. Most young proffesionals want a slice of the earth.
More and more bucket list are being crossed out as the word TRAVEL is becoming the
payment or stress reliever for the tired soul working hard to death. Some are brave enough
to leave their lucrative career to start a new one that is not known to many 10
years ago – that is freelancing through social media. Weather working in the corners
of your cubicle or making the whole world your work area, there is one thing that
we all want to get rid off – harm while on the road. I've
heard horror stories of backpackers in India and in some part of Southeast
Asia. We can never avoid unfortunate circumstances while on the road in this reality. Good news is there is an application to turn our smartphone into
a powerful security device! React Mobile™ can help us be out of trouble or at least mitigate the risk while
on the road.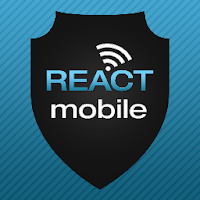 How does the app work?React Mobile helps you
turn your smartphone into a powerful lifeline. The app has a "Follow Me"
feature, that lets your self selected contacts track your whereabouts in
real-time whenever you're concerned for your safety. Perfect for running or
walking alone, keeping track of kids, or meeting
a client for the first time, simply touch the "I'm Safe" button to let your
contacts know when you've arrived at your destination safely. In an emergency,
press the SOS shield on the app to send out a panic alert containing a link to
your GPS location to select emergency contacts via text message and email,
which can optionally be posted to Facebook and Twitter. Once the SOS alert is
activated, you're automatically prompted to dial emergency numbers.
The app allows you to choose which country you live
in (or are traveling to) from the settings tab and when an SOS alert is
triggered, you will be prompted to dial the appropriate emergency authority
depending on your geographic location (ex: in the Philippines the app will
prompt a user to dial 1117).
React Mobile is a new free app for iPhone and Android. React Mobile is well suited for travelers and backpackers as recommended by Travel and Leisure as an app to help keep you safe while traveling. App Screen Shot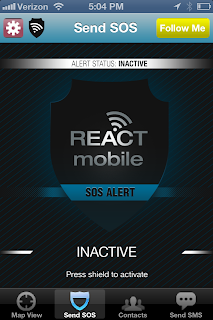 Home Screen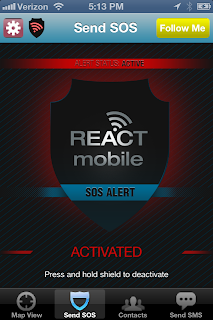 Activated SOS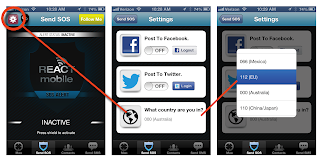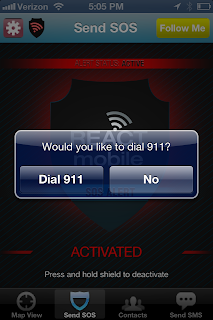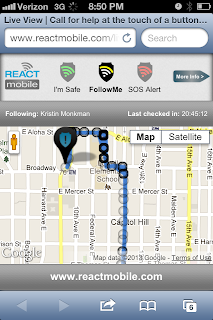 Tracking your whereabout