I was six years old when I celebrated my birthday in the
beach somewhere North of Manila. The waves, the saltiness, the sea breeze, the
seafood, lots of fruits and the scarcity of cold water are my memories of a beach
family bonding. My cousins and I will never leave the shore till our moms and
aunties calls us to eat for a while. Then we'll catch the sunset while sitting
on the sand, others plays with it. It will be followed by sleepless nights
because we will talk all night under the stars. There's no where we can sleep because
our parents will rent only two small cottages for the whole clan of 20 plus. It
was never a problem because our minds were filled with happy thoughts and we
were focused to make most out of it because it only happens once a year.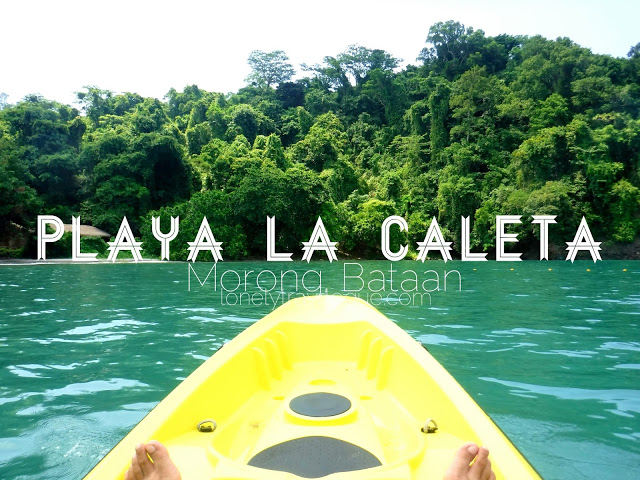 That was my childhood beach memories. All those memories are
being repeated now not only constrained with my family but it goes beyond
friends and friends of friends. Every summer I go to the beach and even extends
it until July up to December.
When I thought that my 2017 summer story ends in Alibijaban,
I got an invitation to check out a beach resort in Morong, Bataan north of
Manila. Excitement indeed extend because possibilities are limitless when you
look up the starts and see it differently the way others do. At exactly 6AM we left Cubao to experience the beach again.
Unlike before, beach escapade means happy times with my cousins. Now, in this beach
trip, it means giving back to nature by means of joining advocacy spearheaded
by Playa La Caleta Resort. A business who has an advocacy is an enterprise with
a soul that breathes and gives back to the community.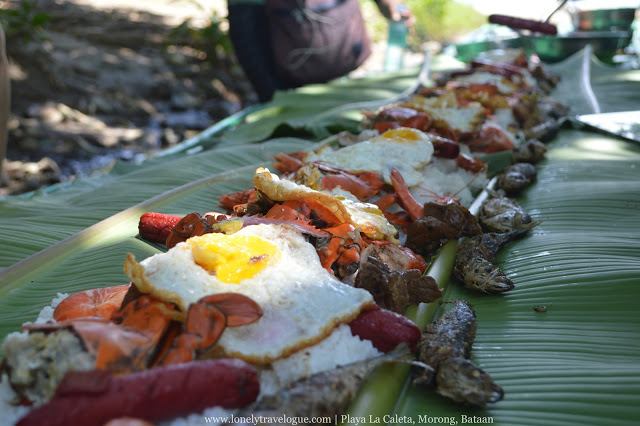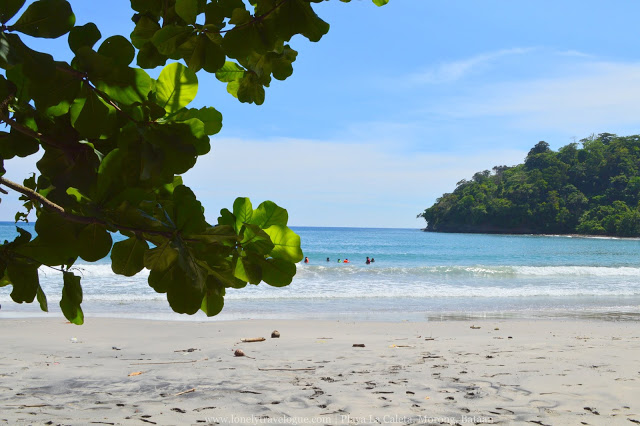 I was more than happy when I learned that we will join the
Beach Clean Up Drive by Playa La Caleta Resort – The
1st PLC Beach Clean Up. I haven't join any beach clean-up activity
in my life, so I really looked forward for in the endeavor.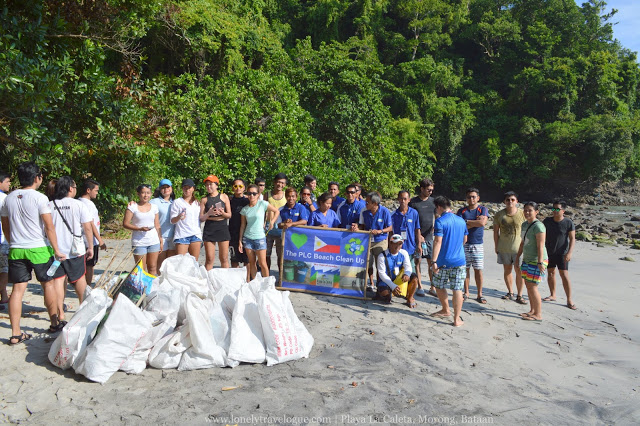 Playa La Caleta, which means Beach Cove,
is an eco-tourism resort with a 100 hectare cove. PLC is in the municipality of
Morong in the province of Bataan, it has a 1-kilometer beach at the front, lush
mountain forest in the middle and 3 waterfalls at the back. On the left side of
the cove is also a 1-hectare islet, called Miguelito Island. We arrived at 12NN in Playa La Caleta Waterfront Estate. We
were welcomed by a "boddle fight"
buffet at the stream, yes you read that right – at the stream leading to the
sea. We enjoyed our sumptuous lunch while our feet were soaked in the cold water. The 1st
PLC Beach Clean Up Every summer our beaches were like an urban area full of
people. Suddenly, during the months of March to May the wanted serenity of the
beach is lost. People wanting to escape the corporate shit and all that thing flocks
to the beach and party themselves out till morning. Sometimes, there folks not
responsible enough to bring back their mess back home thus trash would be their
foot steps in the sand of the beach they love. Nature plays big part why there
are garbage on our shore during the months of June to August. The monsoon season
brings all the trashes all the way from Vietnam and the West Philippines Sea –
the result, massive garbage on our shore.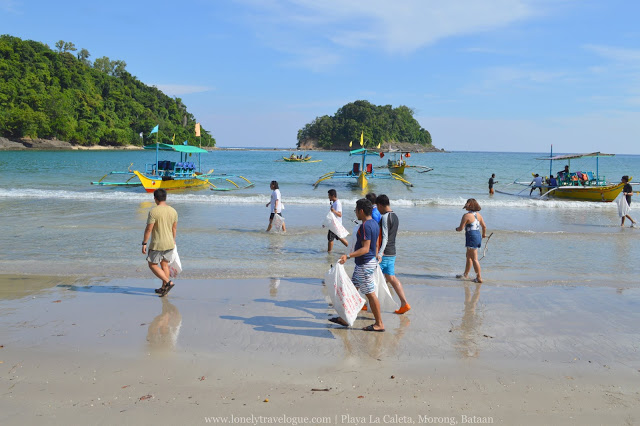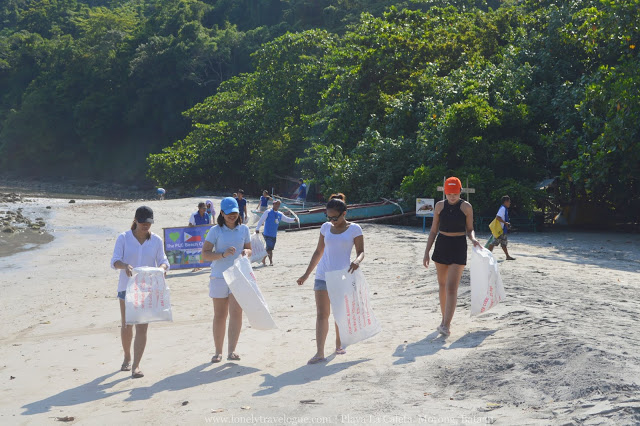 That is why Playa La Caleta Waterfront Estate spearheaded
the idea to include the beach goers in their first beach clean up drive. Guest
of the resort, including us had some sun bating at 3PM and pick up garbage on
the shore of the resort. In PLC's case, the garbage was brought mainly by the monsoon.
The management is very strict in terms of cleanliness thus it is highly impossible
that they would allow guest to just throw away garbage anywhere in the resort –
except of course those guests who will bring their chips in the beach ang just
throw away the rubbish. Its such a powerful scene when guests from their
different struggles in life grabs a sack and starts picking up garbage all together.
Every individual has power to change the world. It starts from the simple act of
picking up your own mess and put it in its place. Can you even imagine if all
of us do the same act together? Making the Experience
for Every Guest As a reward for those soul who stood up and picked the mess
they did not create, Playa La Caleta Waterfront Estate prepared a little
treat. While sitting in a bamboo mat waiting for the sunset we had some
drinks, banana queue and some feel good music.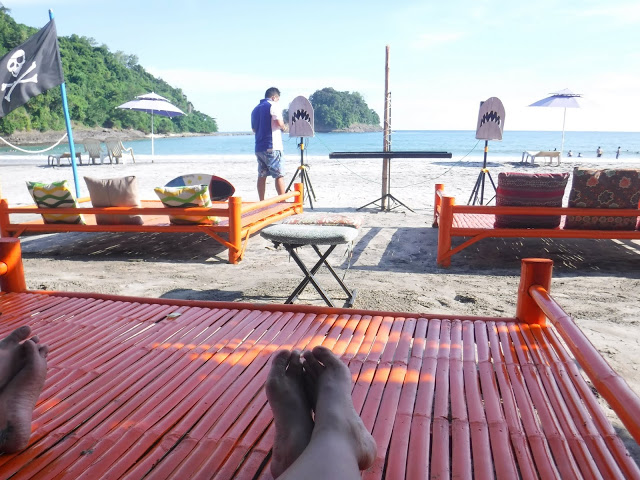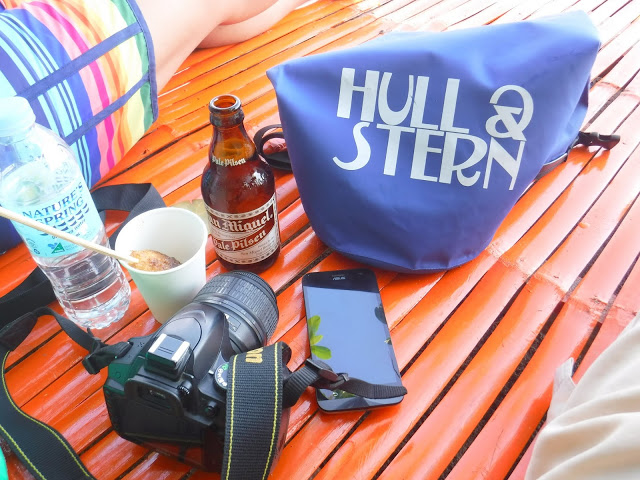 There was like a mini bar equipped with books, board games,
and just a bamboo mat to talk to friends while listening to the music hummed by the wave and the wind. Grab your favorite
book, open a bottle of beer, or even fly a kite in the open bar – that's a jam-packed
experiences created by PLC for its guest.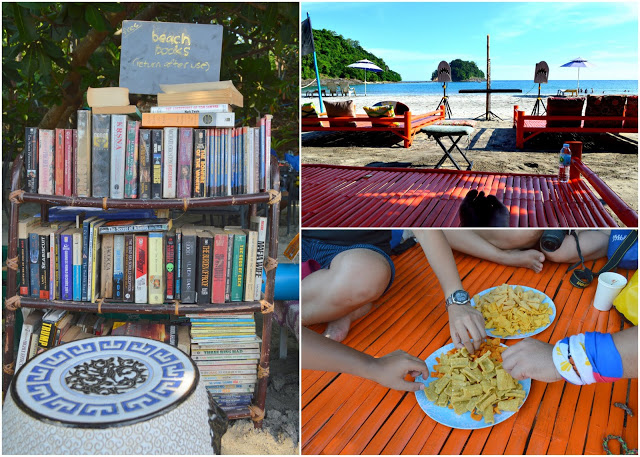 When darkness occupied the sky and the stars appeared before
us, Playa La Caleta Waterfront Estate played an old classic Filipino film at
the beach. Why not? These happens during weekend and when the weather permits. Eco-Friendly Facilities In Playa La Caleta Waterfront Estate you will have the
perfect beach bonding with friends and families without worrying about where
will you sleep or if there is a good fresh water flow when you take a bath. PLC
builds a rustic but very comfy cottages for its guest. It is made of natural
materials from the woods with the comfort of a mattress, fan, mosquito nets and
it has an aesthetically placed white curtains.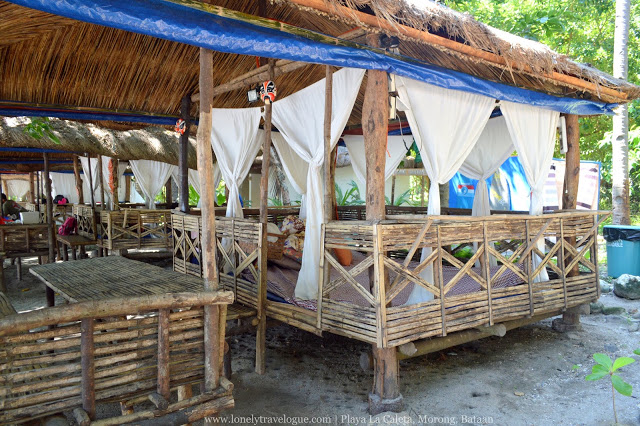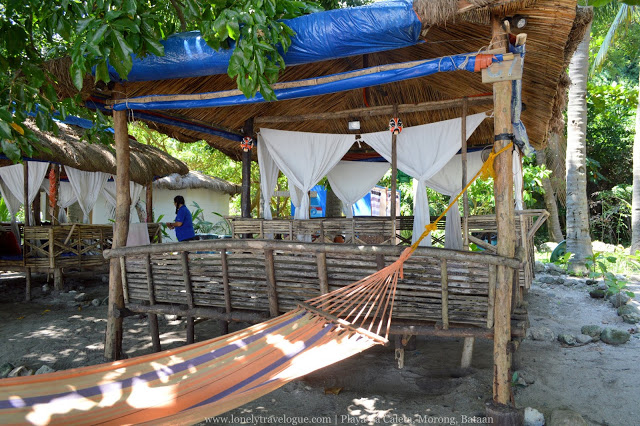 Each cottage is facing the beach and has at least one hammock
for a perfect beachineering moment.
What I like more about Playa La Caleta Waterfront Estate is
that they build eco-friendly facilities where nature permits them. This means
they did not cut any significant trees just to give way for development. You
will notice that the property has a lot of trees everywhere. If you opt to use a tent and do beach camping, you can bring
your tent and pitch it in a designated place. You can also rent one from the
resort if you don't have your tent.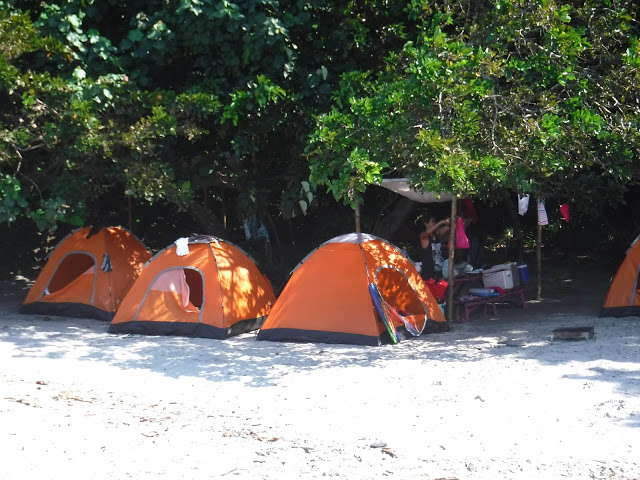 As of writing Playa La Caleta Waterfront Estate do not have
air conditioned rooms. They are currently building it and it will be opened
within this year. They are also contrasting their in-house restaurant. Though I said that PLC builds facilities using natural
materials, they have build shower rooms and bathrooms. It has a modern touch
with elements that express creativity. Activities Apart from the usual beach activities like kayak and paddle
board, the resort offers some outdoor activity such as trekking and biking.
Trek to the nearby falls for 40 minutes and burn your fats like you're in a treadmill.
You can also trek in the nearby Miguelito Island and see the natural pool of the
island. Miguelito island is a one-hectare inhabited island in front of the
resort.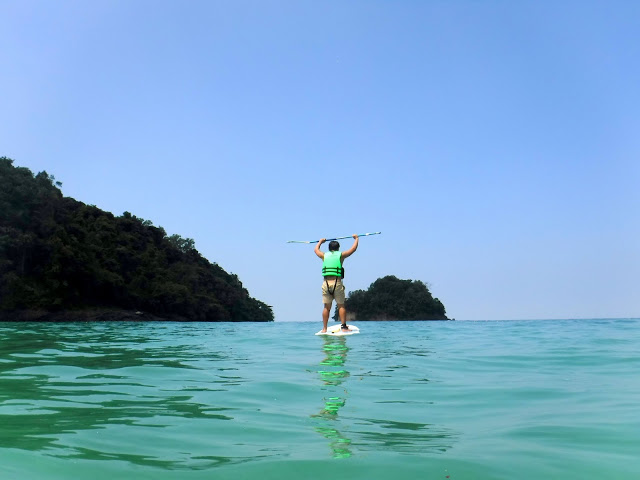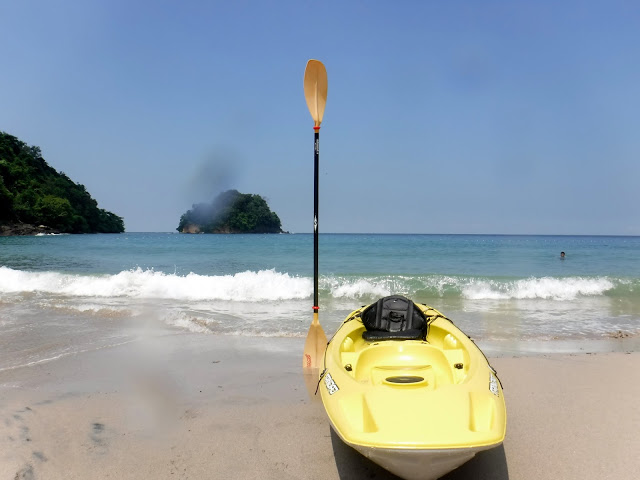 The management of the resort is currently paving the trail
for the bike enthusiast. Soon we can all enjoy a forest bike trail after
soaking in the beach.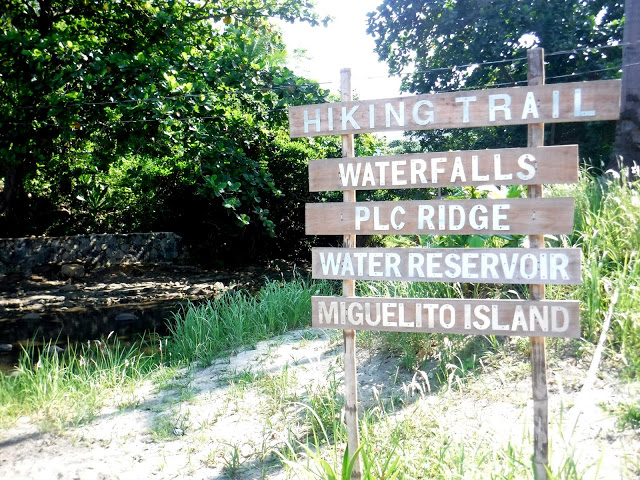 Just like my childhood beach memories, Playa La Caleta Waterfront
Estate will give us our own summer stories for us to remember and to pass on.
When I was a kid, it was all for us an building up relationship with my cousin.
PLC gave me more meaningful memories when we joined the 1st PLC
Beach Clean Up. I am excited to join more environmental endeavor soon.
You can also join Playa La Caleta Waterfront Estate
environmental drives, watch out for their announcement in their Facebook Page.
More Pictures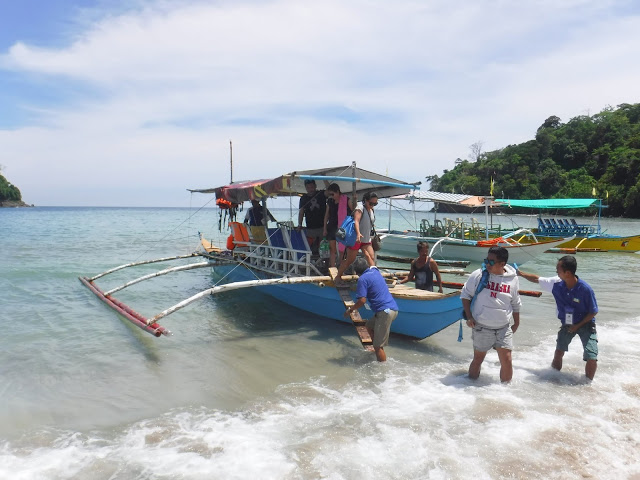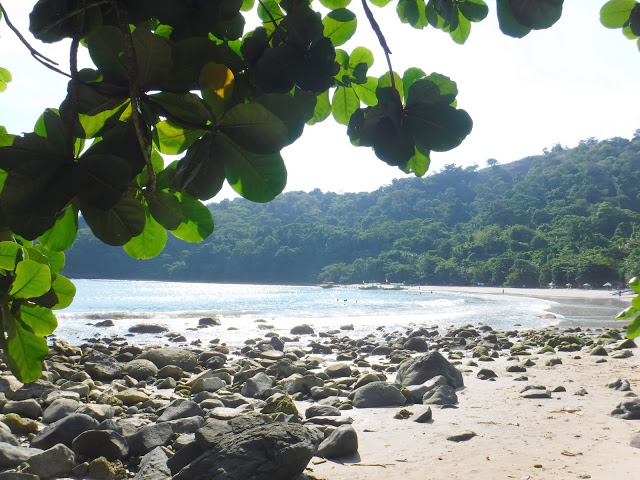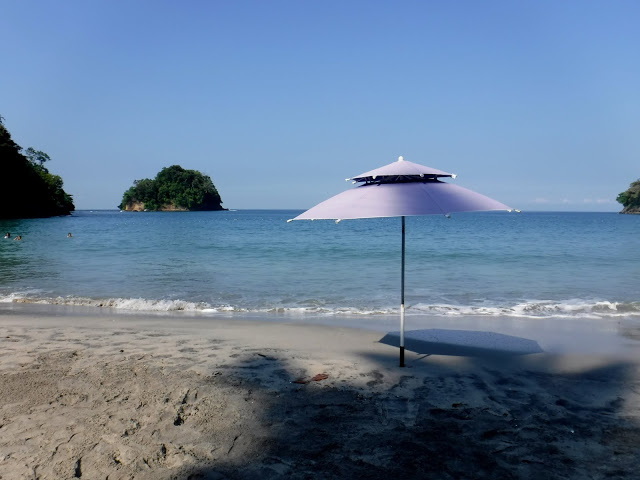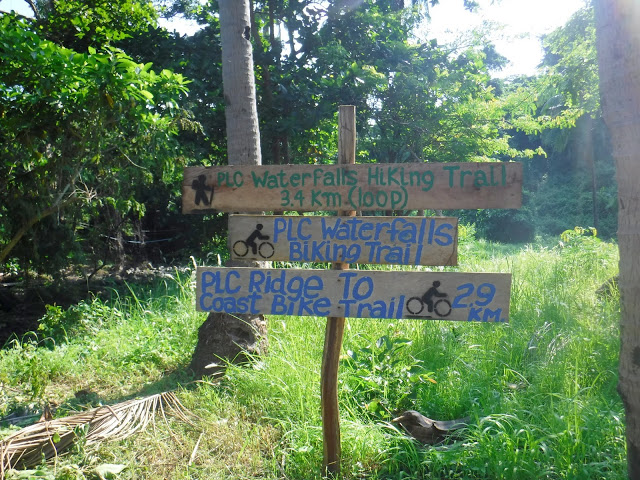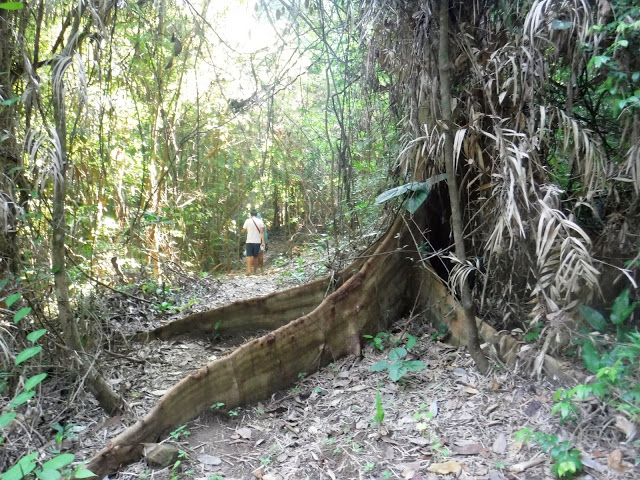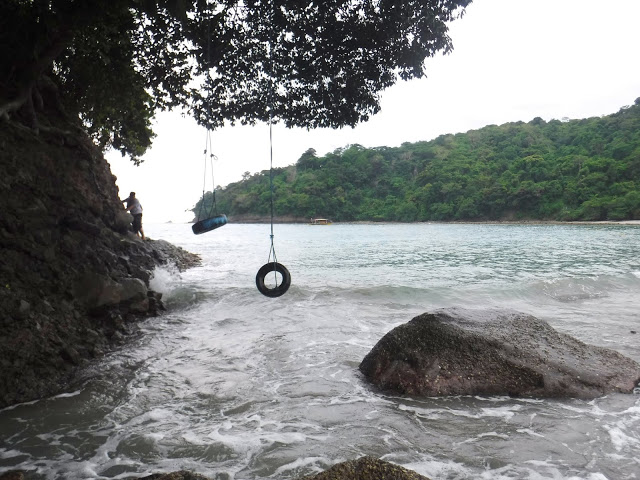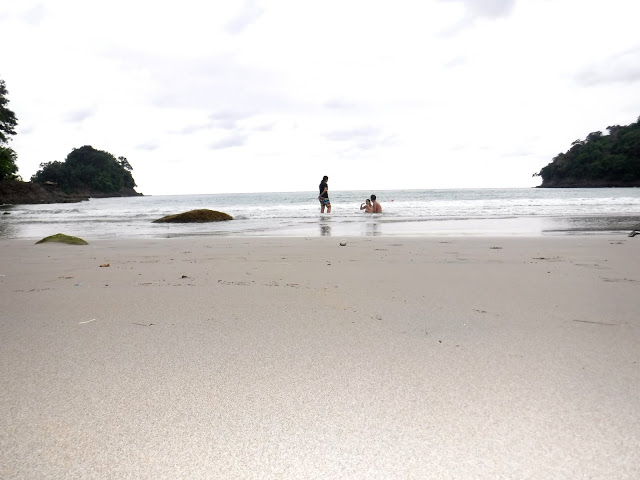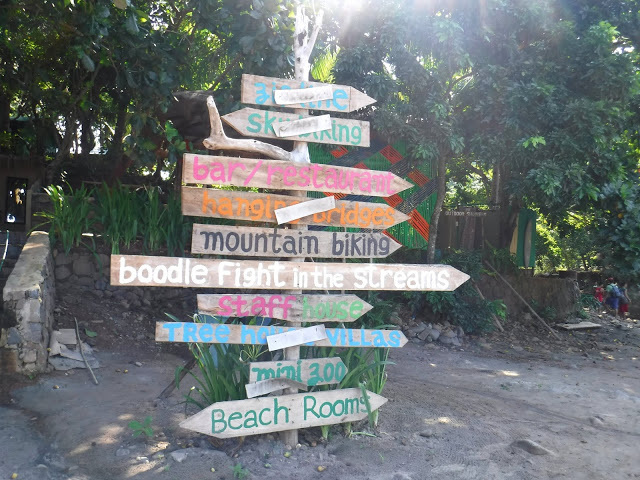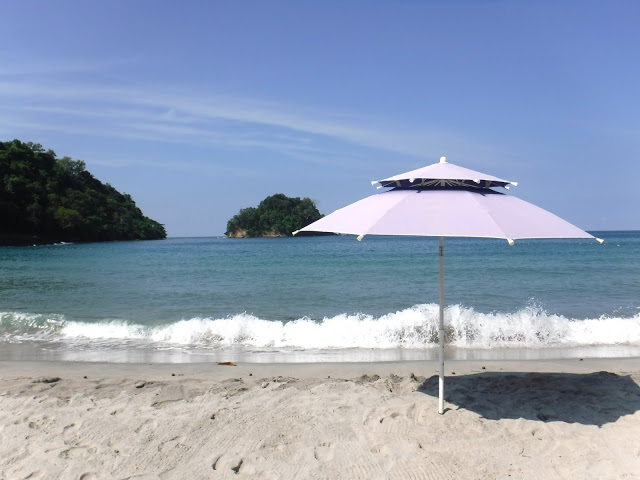 How to go toPlaya La Caleta Waterfront EstateVia Public TransportOption 1: via Fajardo's a. Take a bus from the Cubao to Balanga via either Bataan Transit or Five Star (Php200) b. From the Balanga Bus Terminal, take a jeep to bring you to the Bagac Public Market (Php50) c. From the Bagac Public Market, take a tricycle to Fajardo's Beach Resort located in Bagac, Bataan (Php50) d. From the port of Fajardo's Beach Resort, take a 25-30 minute boat ride to PLC (Php1,800 for 10 persons) Option 2: via La Salle a. Take a bus from the Cubao to Balanga via either Bataan Transit or Five Star (Php200) b. From the Balanga Bus Terminal, take a jeep to bring you to the Bagac Bus Terminal (Php50) c. From the Bagac Bus Terminal, take a tricycle to Jaime Hilario Integrated La Salle School in Morong, Bataan between kilometer 56 & 57 markers (Php250 for 2 persons) d. From the port of La Salle School, take a 10-15 minute boat ride to PLC (Php1,800 for 10 persons) To know more about Playa La Caleta Waterfront you may click here. Sample Playa
La Caleta Waterfront Estate Budget for 4pax Cubao to Balanga Bataan Bus – 200.00 Jeep from Balanga to Bagac – 47.00 Bagac to La Salle Port Tricycle – 200.00 (one way
50.00 each) Boat to PLC – 1,800.00 (two way 450.00 each) Entrance Fee – 300.00 Cottage – 2,000.00 (for 4pax, 500 each) Food – 250.00 each (you can bring food or you can
buy it in the resort) Beach Activity – 200 each (this is optional but as
a group you can rent the kayak, paddle board etc.) La Salle Port to Bagac Tricycle – 200.00 (50.00
each) Bagac to Balanga Jeep – 47.00 Morong to Cubao Bus – 200.00 Total – 2,294.00/pax To know more about the beach activities and eco-activities Playa La Caleta Waterfront you may click here.