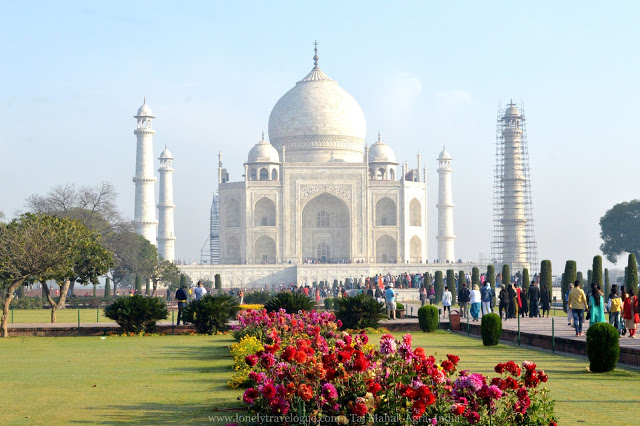 For most, the Taj Mahal is what traveling to India means. Its a must, to visit this magnanimous tomb. No doubt about it, Agra has been the center of Indian tourism because of love and honor – Taj Majal is a symbol not only of India but of overflowing love and devotion of a Mughal Emperor to his favorite wife.


We arrived in Agra the night before our half day tour in the Taj Mahal. We had enough time to rest and wash some clothes used during the first half of our India trip. Time wasn't really on our side, but nevertheless, we had a good sleep and a nice mood because we were about to see one of the world greatest structure made by man. A UNESCO Heritage Site that draws the attention of some 15 Million tourist annually.






Five minutes walk from Moustache Hostel is the East Gate Parking lot where free shuttle bus going to the Taj Mahal is located. We boarded the empty bus for tourist when I realized that I left the battery of my camera charging at the hostel. I stepped down of the bus and run back to the hostel. Thank God we were early and the bus is still waiting for more tourist. When I get back, Claire was already carrying my Packsafe Bag outside the bus. The bus is about to leave and she thought I cannot make it. Well, I did make it, just in time. Lesson, don't get too excited, check all the things that you need before you leave.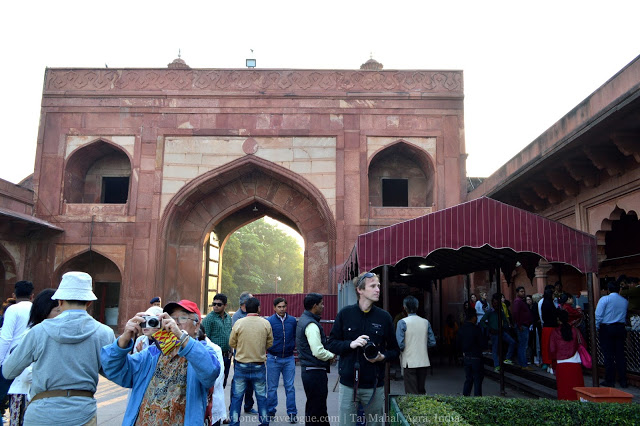 We arrive in the Eastern Gate early enough not to catch a big crowd. They implement strict regulation in Taj Mahal about food and sharp objects. You cannot bring food inside the complex. Water is allowed. They will open your bag and get the food inside. They grab it and throw it in the garbage box. We didn't know that we cannot bring food inside so our snack was snatched away. Those guards are ruthless with my moong dal.


Heaviness in my heart followed as we walk to the Great Gate where all visitors will enter to see the Taj Mahal.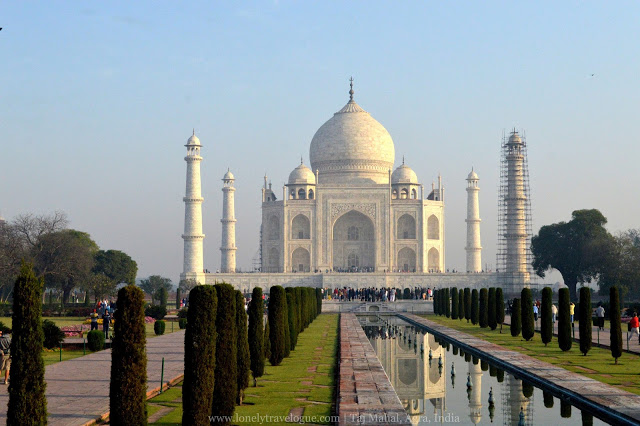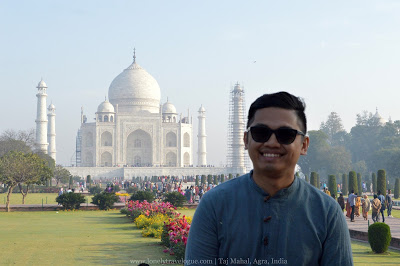 Inside the Great Gate, the white marble structure will shine amids the darkness of the place. Most people would stop inside to capture the Taj Mahal with the dramatic view from the Great Gate. Light will come through as you walk towards Taj Mahal. Standing in front of a vast space of greens, flowers,symmetric waterways and and manicured pathways, Taj Mahal is like a beacon of greatness in front of millions of spectators.


Taj Mahal is an epitome of Persian and Mughal (Islamic) architecture. Its grandness and detailed fortification is very evident. When you take a closer look, you'll see that every spot of the structure has a fine detail that celebrate the Persian and Mughal culture.
There is no place in the Taj Mahal complex that is not picturesque. Travelers of all ages pose their signature shot for a lasting memory and of course for social media purposes.


After hours of going around with Claire, we decided to have our own moment and appreciate Taj Mahal on our own. She roamed around while I sat on a bench observing the Taj Mahal, the people and the nature.
From where I was seating, I overheard a hired tour guide giving architecture and history lesson to travelers. We all know that the Taj Mahal is a tomb build by Emperor Shah Jahan's favorite wife, Mumtaz Mahal. Engineers and architects then employs smart design to protect the structure from natural calamity such as flooding and earthquake. The four towers surrounding the main mausoleum was built 2 degrees inclined away from the dome so that it will not hit it during earthquake.


We went inside the mausoleum with excitement all over us. We wore an aqua color shoe cover as a respect to the place. There was no long queue as I have expected. People are everywhere though enjoying their own Taj Mahal experience. Some are sitting on the marble floor while some are busy chatting with friends and making friends. The tourists were so diverse. There were Westerners, Asian, Africans and even Indians!


When we were about to entered the mausoleum, I felt a little uneasiness with my tummy. It must be my morning ritual plus excitement. I had to look for a comfort room to release the stress. The comfort rooms though are located at the Great Gate. Great, I had to walk back again. It took me so much time because its far plus I took some pictures when I was about to go back to the marble palace.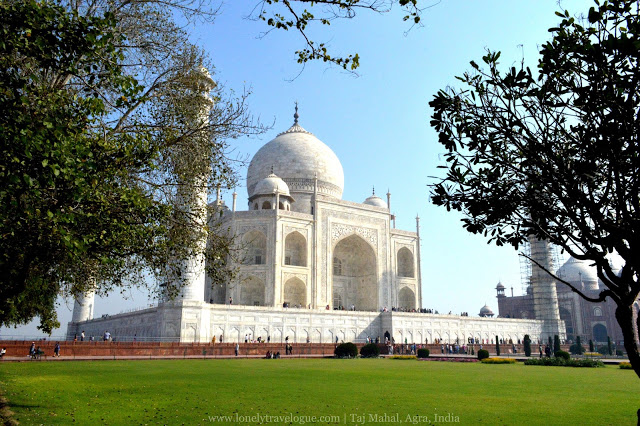 While I was looking for Claire, which I had a hard time doing so, a lot of Indian men came to me asking for a picture. Roll eyes. I just don't know why, but this was very common to me in India. One Indian tourist told me that its his birthday and asked me to have picture with him. Then he asked me for a present because it was his birthday. He was asking for my eyeglasses! I smiled because I thought he was just kidding. I went ahead to find Claire, only to found that the birthday boy was still behind me asking for his present. I ignored him but I was scared.

I went inside the mausoleum to do the strolling on my own and to find Claire inside. It was very dark and crowded. Pictures are not allowed but there were still tourist taking pictures – I saw a lot of Asian violating the rules. There are very detailed patterns on the marble walls of the mausoleum which makes it a great work of art.

I went out and I'm still not seeing Claire. All I saw were Caucasians in their shorts and backpacks, Asian with their long dress while doing pictorials or selfies and Indians in their glorious outfits. I was worried but not enough to panic, she might be just talking to some strangers getting stories or creating stories. I stopped for awhile and a petite woman wearing a white hat tall tapped me on my back looking very worried. Claire was worried because I was gone too long. She had thoughts of me having abducted or raped in India. Thank God nothing happened to me. I told her about the men asking for my pictures and the guys who were asking for a birthday present then we both laugh and decided to go back to the hostel for lunch.