After an almost 3 hours of stay in The Grand Palace Complex I walk through the main road outside where you would see different government agency of Thailand. The area was full of tourist bus parked at the side of well paved road. The place reminds me of my field trip when I was still in grade school. It took me 10 to 20 minutes to reach Wat Pho.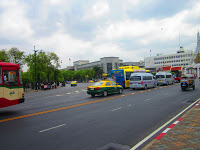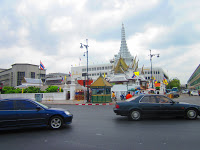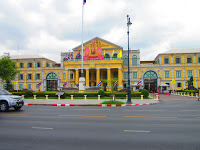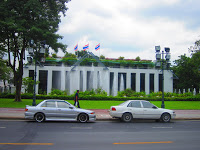 Wat Po or The Temple of the Reclining Buddha (Official name: Wat Phra Chettuphon Wimon Mangkhlaram Ratchaworamahawihan) is as famous as The Grand Palace and Wat Arun. As for me the three religious/tourist spot is the symbol of Thailand as one of the most tourist visited not just in Southeast Asia but around the world.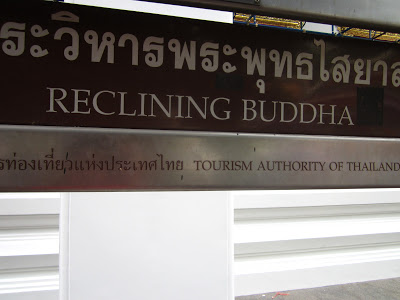 The Scammer Reaching the corner going to the entrance of the temple, I was greeted by a Tuktuk driver that wears a nice smile. He asked me for the time. He was trying to converse nicely just like making new friends. I answered him. Then he trowed me a follow up question – where are you from? So I answer politely. Then another question – where are you going? So obviously I answered Wat Po. And that was he was waiting for, I guess. He told me that the temple is close and it will open at 1:30PM. Since it was 12NN at that time, I will have a plenty of time to visit other temple, according him. So the Tuktuk driver started to talk about this giant Buddah that has no entrance fee. And he was charging me 40 Baht for him to bring me there. I said no to the man and told him that if that's the case I might as well eat lunch and wait for the opening. At this point I sense that this man is lying. And he was… Just a few meters away is the entrance and when I asked the vendors outside if it was close they said that it was open. Confirmed! The Tuktuk driver was a SCAMMER! That is the job of the scammer in Bangkok they will try to divert you to other temple. They will bring you to this giant Buddah or Jewelry store because they will have a free gasoline once they bring tourist in this "tourist spot" as they say. This incident happened to me four times in Bangkok and I never give in to them.
Quick Lunch Enough with that scammer. I was so proud he wasn't able to catch me. Before entering the temple I bite sime snack or should I say lunch outside the temple. My lunch was the street foods! Oh street foods in Bangkok includes tropical fruits with different spicy eastern condiments for better tasting. I ate semi ripe mango with spicy salt, water melon and coke. The mango was very spicy because I put too much spicy salt on it resulting me to be a dragon blowing away the hot stuff on my tongue! Haha…
The Temple Because the place is a Wat – meaning temple everyone who wants to go inside should take off his shoes and go barefoot inside. Do not worry about your shoes loosing while inside they will give you a shoe bag where you can put your shoe and bring it inside.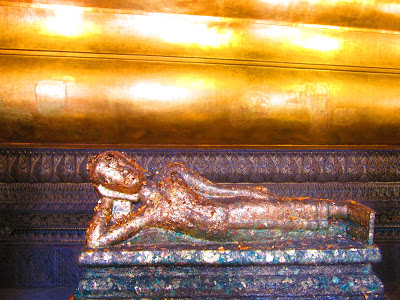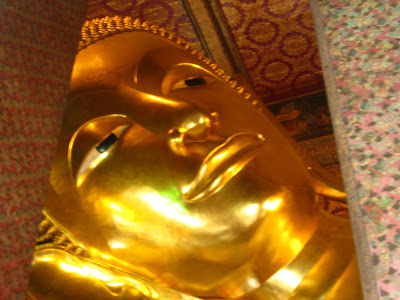 The 100 Baht entrance includes small size water which you can get outside the main temple. The gold reclining Buddha is marvelous. He proudly reclines there as you stroll around and take pictures freely. He as if is making a post on every shots of the camera.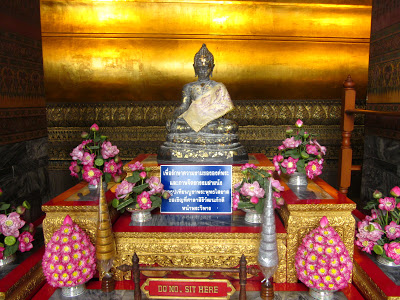 At the back of the Buddha, still inside the main temple, is the 108 bronze bowls where people or devotees drop one coin on each bowl to bring good fortune and help the monks maintain the temple. Each bowl represents the 108 characteristics of the Buddha.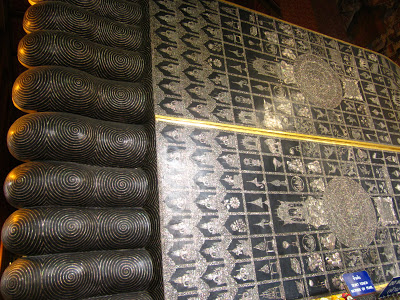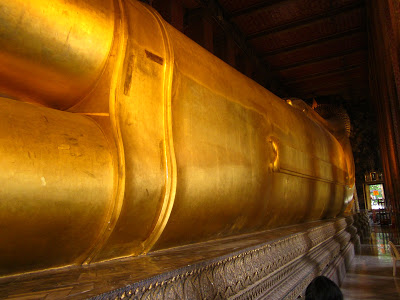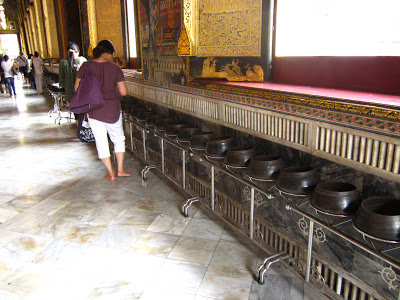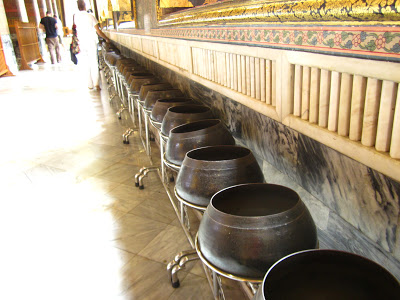 Around the Wat Po complex are many temples and Buddha statue where everyone can pray and worship. I never thought that the whole complex itself is big and has many temples where someone could pray.
Other Temples and Attraction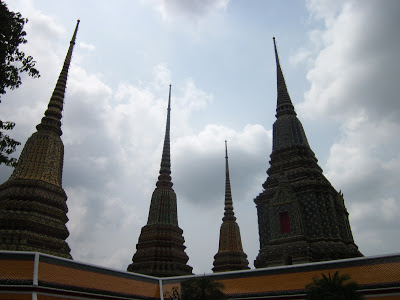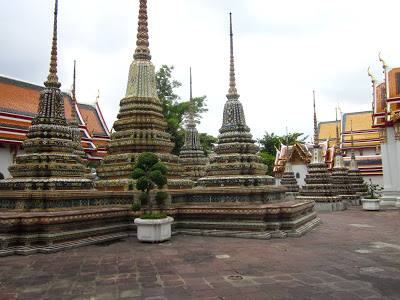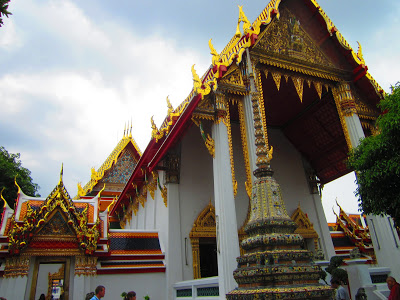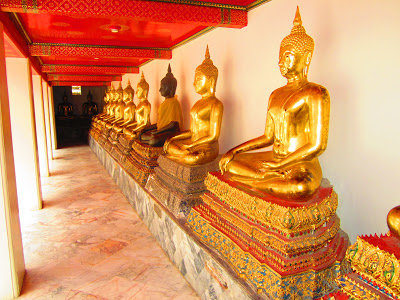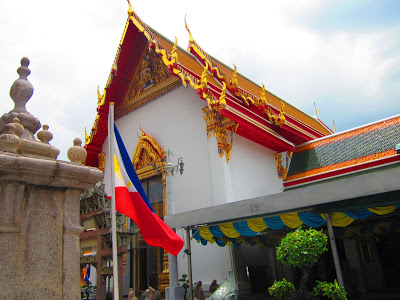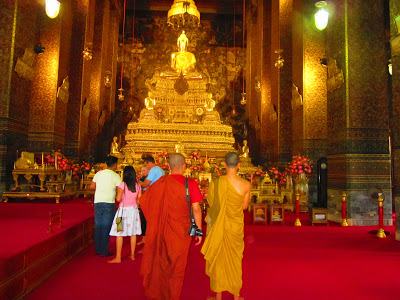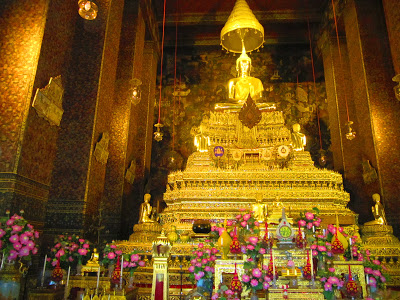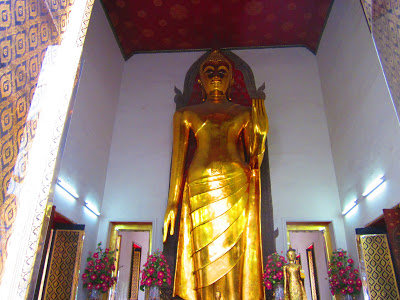 Disclaimer: 
The title of the article do not mean to offend the whole of Thailand or the Thai people. This post intends to promote traveling and warn future travelers against people who will possibly take advantage of them.